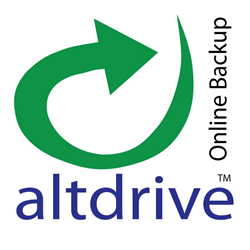 Insanely awesome online backup.
Seattle, WA (PRWEB) June 27, 2014
AltDrive secure online backup drives up the features with the new version 1.70-001 release supporting Windows, Linux, Mac OS X, and Solaris. This is mid-year release and is in response to customer feedback. It is regarded as the fastest online backup service in its market.
New Features:

QoS support added so that customers can designate backup data as "backhaul" lower priority data and speed up backups with no impact to other services, e.g. VOIP, video streaming, etc.
Restore now recreates symbolic links and attributes on unix.
Restore better recreates the file and folder permissions and owner, group on unix.
A restore report is provided.
New Biz History view to monitor backups
Faster file scans for backup planning
Faster backup performance by reusing the SSL sessions
New console support for Home users
New autostart feature for the client user interface
New ability to disable Windows shadow copies for certain user requirements
New ability to enable system sleep during backups
New ability to restore permitted during backup processing if backup is paused
New instructional videos on website
Other Improvements:

Improved interface and usability
Improved progress indicators
Improved more precise bandwidth management
Library updates
Improved diagnostics
Service Deadlock detection
Bugs fixed:

Backup Scheduling for some settings
AltDrive uses a super strong AES-256 CTR mode data encryption cipher with a private key so that even AltDrive personnel cannot view customer's files - a must for savvy businesses. For convenience, home users can elect to have AltDrive manage the encryption key. Additionally, the company has located its storage assets in the secure Westin Building in Seattle where multiple levels of security are employed.
Established in 2005, founded by a serial entrepreneur with security, scalability, and usability backgrounds, and located in Seattle, AltDrive's mission is to ensure that all computer data is securely backed up and versioned. The company is viable and debt free having been developed without outside investor capital. Visit http://altdrive.com for more information or to back up your computers.