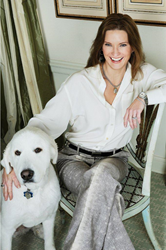 Our particular coastline, which surfers love so much, inspired me to stretch this year's theme and design a furniture piece referencing things we take for granted--such as the kelp beds--which are so vital.
Los Angeles, CA (PRWEB) June 18, 2014
Kristi Nelson joins top architects, designers, and artists invited to interpret the essence of California beach communities through their creative lenses for this year's sun n' surf-themed "groundswell" concept. The 2014 event will feature original art and furnishings, custom surfboards, boogie boards, and skateboards created expressly for the A+D fundraiser.
Drawing inspiration from surfers and the natural environment they inhabit, Kristi Nelson envisaged a lush forest of kelp wafting through pacific blue waters for her firm's donated design piece. Entitled "California Kelp Forest End Table," KMNelson Design's auction item is not only a functional representation of the beauty of the sea, it is also intended to bring awareness of the declining ecosystems of the once rich and diverse kelp forests along the Southern California coastline.
"Our particular coastline, which surfers love so much, it's beauty and the unique world within it - particularly the kelp beds - inspired me to stretch the theme and design a furniture piece meant to reference those things we take for granted but are so vital," says Kristi Nelson, managing partner of KMNelson Design, LLC.
KMNelson Design's creation is an interplay of faux sea glass and iron fashioned into a decorative end table. The table depicts the dance and symbiotic relationship of kelp and seawater, and represents the most vital piece of a surfer's equipment—the ocean itself. One might expect to find this sinuous table in an Italian villa on the Amalfi coast, or in Antonio Gaudi's Casa Batlló in Barcelona. However, KMNelson Design's imaginative creation will most likely grace the SoCal home of the highest bidder at the gala.
CELEBRATE is the Architecture and Design (A+D) Museum's annual fundraiser, which is attended by a who's-who of the architecture and design worlds each year. This year's festivities will include DJ Raul Campos of KCRW, open bar sponsored by Tito's Vodka and Asahi Beer, and Southern California cuisine, as well as the return of last year's emcee, actor Boise Thomas, and a special appearance by Madison Hildebrand, Luxury Realtor on Bravo TV's "Million Dollar Listing Los Angeles". The centerpiece of the evening will be the legendary runway presentation of silent auction pieces fabricated by the designers. All donated pieces (modeled and displayed) for the fundraiser will be auctioned that evening, with 100% of the proceeds benefiting the Museum.
###
ABOUT KRISTI NELSON / KMNELSON DESIGN, LLC
KMNelson Design, LLC (KMND) is a full-service design firm providing residential and commercial services from conception through project management and final installation. Kristi Nelson is Managing Director of KMNelson Design, LLC. She is recognized in the world of design for creating inviting and visually compelling spaces with timeless style. Each project reflects her sensitive integration of interior architecture, proportion, scale, and color. A trained artist, Kristi brings her passion for color, Classicism, architecture and decorative arts to her design practice. Living in Europe and travelling around the globe informs her eye and sensibilities, while her background in corporate business provides the disciplined approach to running her company and its projects. She is a go-to design resource for TV and Radio features including HGTVs "Beautiful Homes" series, ABC's "Beautiful Homes and Great Estates," NBC/LX TV's "Open House" and "Homes Wizards" on KFWB/CBS talk radio. Kristi and her firm's work are also covered extensively in print and on the web including Traditional Home, Luxe, Dwell, and Angeleno Interiors.
Kristi received her Masters degree in both Studio Art and Art History from the Paris American Academy, as well as undergraduate degrees in the same curriculum from Indiana University. For more information, visit http://www.kmnelsondesign.com.
ABOUT A+D
Established in January 2001, A+D is the only museum in the country to exclusively and continuously host architecture and design exhibitions, symposia, multi-disciplinary projects, educational, and community programs. The Museum showcases the work of important regional, national, and international designers across disciplines, providing a forum for contemporary issues in architecture, urbanism, and design. A+D is a non-profit, 501(c)3 organization and, as such, contributions are tax deductible as allowed by law. For more information on the A+D Museum and CELEBRATE, please visit http://www.aplusd.org.