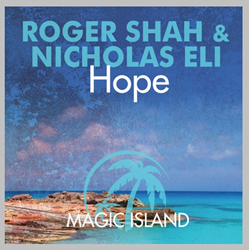 "Hope" is a true testament to Shah's craftsmanship, built upon elements of a classically pure trance sound.
New York, NY (PRWEB) June 18, 2014
Trance music producer and dance music figurehead Roger Shah releases his latest single, "Hope" (Magic Island/Black Hole Recordings), a dreamy, melodic collaboration with Nicholas Eli on June 16th.
As an artist, Roger Shah has earned a reputation as a tastemaker over the course of the last two decades. With releases on globally renowned labels – including Universal Music, EMI, Sony Music, Warner Bros. Records, Armada Music and more – Shah's skill is evident in his output. His history of collaboration also includes some of the industry's biggest names, including: Armin van Buuren, Tiësto, Paul Oakenfold, Ferry Corsten, Bryan Adams, Sarah McLachlan and others. Under his own Magic Island Records imprint, Shah has created a number of works that speak to his role as a seasoned producer, all unified under the Balearic sound he's claimed as his own.
"Hope" is a true testament to Shah's craftsmanship, built upon elements of a classically pure trance sound. Kicking-off with a chilling melody, airy synths swoop in to set an ominous tone. Soon, the sounds of a crooning guitar enter, their distinct minor chords creating a powerful overlay with each note. From there, "Hope" begins to rise, while a 4/4 beat and warm melody combine to radiate a euphoric, uplifting feel. With its captivating drop, this progressive anthem peaks with an entrancing effect of harmonic bliss. The result is strong and sure.
"Hope" embodies the unique sound that Shah and his label have cultivated over the years. Not one to restrict himself to one style, Shah utilizes several aliases for his label releases (most notably, Sunlounger), for his radio show, and for an impressive portfolio of scores for the likes of Disney and composers such as Hans Zimmer.
Purchase on iTunes: https://itunes.apple.com/us/album/hope-single/id884086462.
Purchase on Beatport: http://www.beatport.com/release/hope/1316960.
Look for more from Roger Shah in the months ahead.
For more information, contact EMILY TAN Media Relations at +1(917) 318-3758 or EmilyEmilyTan(at)aol(dot)com and visit http://www.rogershah.net.
# # #