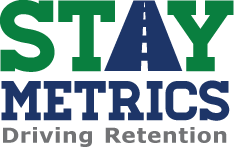 Stay Metrics continues to better its offering with a strategic partnership.
South Bend, IN (PRWEB) June 18, 2014
In its continuing effort to better its solution, Stay Metrics learned from their clients that linking safety training to the Stay Metrics rewards platform doubled safety engagement rates every time. As a result, they started working with safety consultants approximately a year ago and were about to launch a product that was, in Tim Judge's words, "rich in content, but wrong in format". Professor Tim Judge who is Stay Metrics' Director of Research, author of several management textbooks and more than 150 research articles, was one of the first to advise Stay Metrics that people don't learn as well by simply reading or viewing. People learn by doing. Tim Judge added, "Particularly in today's age, people need to learn from different angles – reading, reflecting, practicing, producing, relating. That's what this new training module embraces."
"Our first product, quite honestly, was similar to much of what is out in the market today," CEO of Stay Metrics, Tim Hindes stated. Hindes described it as a bit stoic and boring. Through its relationship with Notre Dame's Innovation Park, the Stay Metrics team was introduced to another park client. Enter Mopi16. Mopi16's team, with over 15 years of experience studying how people learn, showed Stay Metrics a better way. This better way will be a new module in the Stay Metrics offering and will be launched August 1st of this year.
Gina Anderson of Mopi16 stated, "Meaningful learning occurs when we can make personal connections to content. We have to build on what our learners know and provide opportunities for them to experience authentic applications when they are ready to learn it." Scott Anderson, COO of Mopi16, commented, "We strive to create as many opportunities to engage in the learning experience as possible. We hope that truckers will find the Stay Metrics learning content easy to navigate and fun."
About Stay Metrics
Stay Metrics is a driver rewards and recognition program combined with a survey system customized for each carrier. It is proven to improve driver retention, performance and safety training engagement and to modify behavior in the organization.