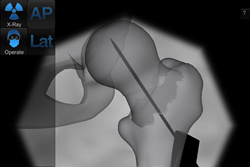 Rated 4.5 / 5 by on-line medical publisher iMedical iApps
(PRWEB) June 19, 2014
The user enters a virtual operating theatre and goes through the various stages of repairing a hip fracture. From cutting the skin, taking x-rays through to putting the screws in the right position, Bonedoc is bringing first person surgery to medical professionals.
Bonedoc 's Project manager Dr Graham Strong said, ""Orthopaedic surgeons - in-training wanting to learn a new technique, and practicing surgeons wanting to help trainees climb the learning curve faster will benefit from Bonedoc."
As mobile technology continues to advance, more applications are focusing on simulating virtual surgical and medical techniques before performing them on real patients. Bonedoc gives feedback which has real world meaning and is medically accurate.
Dr. Philip Blyth, the developer of Bonedoc adds, "The app allows trainees to 'warm-up' before performing real surgery, in much the same way as kicking a football on the side-line before running onto the field."
The app also hooks into the Game Center, so the user can challenge colleagues and friends to see who is the best local or global Bonedoc. It is also easy to share triumphs via Facebook or Twitter.
Bonedoc is released by Otago Innovation Limited, the tech transfer office of the University of Otago, Dunedin, New Zealand. Dr. Philip Blyth is both an academic at the University of Otago as well as an orthopaedic surgeon currently working in emergency medicine. Bonedoc can be downloaded from Apple's iTunes store.