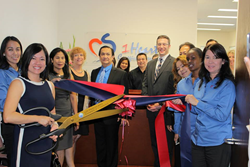 "1Heart Cares!"
Los Angeles, California (PRWEB) June 17, 2014
1Heart Caregiver Services operating for more than 10 years in Los Angeles area officially launched its expansion program and its new Training facility for 1Heart Business Academy. CEO Belina Tagarao spearheaded the Ribbon cutting ceremony held on the 13th of June, hosted by Los Angeles Area Chamber of Commerce to inaugurate the opening of the new central office that will house the new Training facility for CS Caregiver University and 1Heart Business Academy. The special event was attended by close friends and consultants like Chicago FMS Chief Operating Officer Tom DuFore, 1Heart Brain Fitness Program Director Tee Barr, Atty. Mary Sanga of MTS Law Office, Corporate Lawyer Atty. Mosqueda, Business Leader Danny Nernberg, Harold from Compassionate Hospice, Audio visual Consultants Rodney and Judy Mitchell. The event had been a success with the support of the whole Los Angeles Area Chamber of Commerce led by its Ambassadors Glenn Bowie, Brett Fulmer, Pamela Farber, Brenda Valiente and Holly Bachman, Chamber Membership Representative. Holly and Brenda worked hard to screen and process 1Heart CS Membership and completion of the Ribbon cutting ceremony.
The new Training facility will pave the way for the 1Heart Caregiver Services comprehensive training for its employees at its CS Caregiver University. The Training institution was founded in 2011 by Chief Executive Officer Belina Tagarao, an honoree of the Los Angeles IMAGE AWARDS and co-founder Randy Clarito, Training Director who spearheaded the creation, design and implementation of the company's multi-phase training modules provided to all employees. CS Caregiver University training is an integral component of the company's rigorous program of 'Continuing Professional Education' and career development.
For more than a decade, 1Heart Caregiver Services (1Heart CS) has been a premier in-home care service company, providing professional private duty care to seniors as well as to adults who require assistance at home in addressing diverse healthcare needs. 1Heart CS is run by executives who, together, have over 50 years of healthcare training and case management experience, both in the United States and abroad.
1Heart CS during the Ribbon cutting ceremony and inauguration proudly launched the expansion program through its new corporate video featuring all the corporate successes and opportunities that lies ahead to reach out to more seniors in different states all over USA in the next 15 to 20 years. The future business partners in different states, Managers and new Franchise owners will be trained at the newly inaugurated 1Heart Business Academy training facility. The Training Modules have been firmed up by the CEO, Training Director, Business Consultant and Management team.
In behalf of the 1Heart CS family, the remark and speech at the Ribbon Cutting Ceremony was delivered by Business Development and Training Director Randy Clarito who articulated on the humble beginning of the company in Beverly Hills started by CEO Belina with her Marketing and Case Manager. Randy described how CEO Belina never stopped working hard how the company can best serve the senior community and with dedication, commitment and a big heart the company was able to partner with big senior living facilities and the history goes on until today. Randy expressed the company's optimism that the 1Heart Business Academy training will ensure that the company's success in senior care be replicated in every single city and state that 1Heart CS will be present. Brain Fitness Program Director Tee Barr, with her surprise revelation as witness to the company's unmatched senior care, bestowed honor on the service that the company has done to her mother who was once a senior client of 1Heart CS.
CEO Belina expressed her gratitude to all that honored the special inauguration event as all the guests wished the company well and they all shared the optimism of the whole organization. CEO Belina further articulated that everybody will be remembered as being part of 1Heart CS history as she remain committed to bring the company to greater heights.
About 1Heart Caregiver Services:
1 Heart Caregiver Services (1 Heart CS) http://www.mycaregiverservices.com is a premier In-home care service company that provides professional private care duty to seniors and adults requiring assistance in their home and healthcare needs for the past 10 years. The company is run and managed by healthcare Executives with local and international training with combined top level executive work experience of more than 50 years. 1 Heart CS is the only In-Home Care company that has its in-house 'Caregiver University' spearheaded by Training Director Randy Clarito in Southern California area that provides professional caregiver training held at its Los Angeles head office aligned with its 'Continuing Professional Education' program implemented to all corporate managers and staff of the company and extended to senior living facility requiring in-service training for their staff. The Staffing department headed by Staffing Officer Jennifer Remigio takes charge of staffing solutions to all cases, hiring and screening of all applicants and update of caregivers, CNA and HHA data base that can readily be assigned to new and existing cases handled by Client and Care Service Managers Arnold Navarro, Anne Capili and other Managers assigned in each target County. The company carries out a 'Circle of Care' process that is uniquely implemented by all Staff Managers and can't be matched by any senior care service company. 1Heart CS is a Certified Member of CAHSAH, California Association for Health Services at Home, Los Angeles Area Chamber of Commerce, BBB and operates in Los Angeles County, Orange County, Ventura County, San Fernando Valley, San Bernardino County and Santa Barbara County area. For a free evaluation, call #213-351-9100 #805-338-8100, #310-779-6254, #818-561-6641 and #562-412-2420 for an agreed schedule of appointment. For caregiver applicants with minimum of 2 years work experience, look for Jennifer Remigio to process the application with the submission of live scan finger print, SS card, CPR / First aid certification and TB test results.