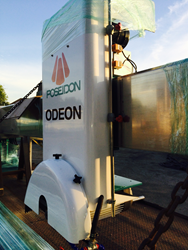 Made in the USA!
Punta Gorda, FL (PRWEB) June 19, 2014
The American manufacturing industry plays an important role in the nation's economy, with individual states contributing their expertise to the overall picture. In Florida, manufacturing accounted from some $37 billion in output and exports during 2012, according to the latest data from the National Association of Manufacturers, with manufacturing share of total gross state product coming in at 4.8%.
Florida-based Poseidon Industries, Inc. was proud to be a part of the state's excellent manufacturing statistics. The specialist stoneworking equipment manufacturer produces a range of innovative and market-leading machines from its factory in Punta Gorda, such as the Odeon bridge saw, which is 100% made in the Florida factory.
With a fully protected X- and Y-axis body, hydraulic tilting table and motorized miter positioning features, the Odeon is the perfect example of Poseidon's manufacturing expertize and one of the reasons that the company has been thriving in recent years. The Odeon's bridge moves to miter position via an electric motor and switch, for easy shifting between positions. Along with a 20HP motor, a unique steel cover design on the whole bridge, a color touch screen and an automatic cuts program, the machine oozes high quality, technically advanced features.
As well as contributing to the state's manufacturing industry, Poseidon also contributes to Florida's professional and business services sector, which according to the Bureau of Labor Statistics (BLS) saw a 4.4% 12-month change in the year to March 2014. The company's service and support division is based in Florida – a refreshing change from the majority of its competitors, whose support services are often based in Italy, meaning a time difference of between six and nine hours for most US customers.
The heavy duty Odeon bridge saw, which comes complete with new blade, futuristic fiberglass covers and the choice of concrete walls or steel legs for positioning, is indicative of the dynamism of Florida's manufacturing industry. Companies such as Poseidon, which is known for its innovative approach and flexible nature, are helping the state to contribute to the overall improvement of the USA's productivity levels, which rose 2.3% in the fourth quarter of 2013 based on BLS data.
Such innovation is highlighted by Poseidon's use of a special epoxy coating on all of their saw tables and rails. The coating ensures the longevity of each stoneworking machine that the company produces, as it keeps the machine structures free from rust, providing a final product that is synonymous with the American reputation for producing high quality goods.
To find out more about Poseidon Industries, Inc. and their range of innovative products, call (877) 571-5599, email info(at)poseidonmachinery(dot)com, or visit http://poseidonmachinery.com/.
You can also follow Poseidon's latest developments at http://www.youtube.com/poseidonmachinery or by liking them on Facebook: http://www.facebook.com/poseidonmachines.