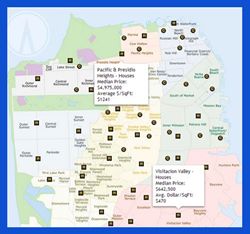 I don't expect housing prices to be lowered by these new buildings at all.
San Francisco, California (PRWEB) June 19, 2014
The San Francisco housing market has changed dramatically recently and will continue to see lots of change in the coming years, according to a new report published by Ruth Krishnan, top San Francisco realtor, in her new blog.
"Much of the city's new construction is occurring on parcels that were previously commercial-industrial, often on busy urban streets and/or in relatively neglected sections of the city — places that not so long ago might have been considered subprime locations for residential development. That has flipped 180 degrees: Wherever they are, most of these new projects are selling for prices rarely, if ever, seen before in their respective neighborhoods and bringing in new populations of typically young, affluent buyers. For good or ill, or both, depending on how you feel about this phenomenon, these developments are altering the look, the cultures, demographics, commercial districts and home values of the neighborhoods they're sprouting up in," Krishnan states in her blog.
Despite the high prices, and in a housing market known for its bidding wars, new construction offers buyers a chance to get into the market with less competition from other buyers. "The developer publishes a price and sometimes depending on the building, there is some room to negotiate a few things. Then, if you see a unit you like and it's available, you buy it," says Krishnan. "New buildings are sold more on a first come, first served basis and there is a good reason to be first. When you are first, you are able to view all of the units and choose from a variety of layouts and views."
Change in this case doesn't mean that the San Francisco housing market is buyer-friendly. "Developers," says Krishnan, "are doing things more differently than ever before. 300 Ivy, which sold earlier this year, had people register to be on a waiting list and reserve units without even being able to see a model unit. That's the first time I've seen a condo sold that way. Vida, which is located on Mission street, currently has a model available to view (though it's not to scale) and upon viewing the model and a floor plan you can put down a deposit to buy a unit there. 1515 SF just opened its doors and you actually get to walk through units and chose which one you like."
In a city notorious for rent control, new construction offers buyers a unique investment opportunity. "If you are an investor, buying something like this to rent out can be a great way to park your money somewhere and let it appreciate, while simultaneously letting someone else pay your mortgage. The units do not have rent control, they fetch high rates, and you don't have to go through the hassle of going out to open houses every weekend and trying to learn the market," says Krishnan. "New construction is a great solution. There will be a plethora of new residences to buy over the next few months with prices ranging from $500K at the Shipyards to a few million in larger units in buildings in the Mission or on the Market street corridor."
Despite all the many recent changes in San Francisco's housing market, lowered housing prices is not one of them. "Some people are going to be wondering about whether all of this new construction will hurt housing prices. According to a report by the US Census, they estimate that San Francisco has had an additional 32,000 people added to the city between 2010-2013 with only 6,000 new units slated to be built," says Krishnan. "Given these numbers I don't expect housing prices to be lowered by these new buildings at all."
To find out more go to http://www.ruthkrishnan.com.
About Ruth Krishnan: Ruth Krishnan is one of the San Francisco housing market's top agents. With a background in design and business, Ruth Krishnan brings an artistic eye and strong negotiation and business skills to the arena of real estate sales. Representing both buyers and sellers, and with a expert knowledge and comfort with San Francisco's unique real estate market, Ruth Krishnan has a long history of satisfied clients and successful deals. To learn more about Ruth Krishnan's experience as real estate agent, to get free advice about the San Francisco housing market and San Francisco housing prices, or to request an interview contact her at ruthkrishnanre(at)gmail(dot)com.