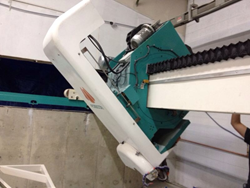 3o Horspower Blade Motor Never Fails!
Punta Gorda, FL (PRWEB) June 20, 2014
The outlook is strong for the US economy over the years ahead, according to the latest projections from the International Monetary Fund (IMF). In its World Economic Outlook Update, the IMF predicts growth of 2.8% in 2014 and 3% for 2015. This is up from 1.9% in 2013. But how does this broad picture translate when it comes to the companies that form the backbone of the nation?
Poseidon Industries, Inc., a specialist stoneworking equipment manufacturer based in Florida, is representative of many companies across the country and is part of the force behind the IMF's predictions. Poseidon has enjoyed success over recent years, despite the global economic difficulties, thanks to the company's innovative approach and attention to detail. It represents a new breed of American company – one that is ready for whatever the future may hold.
Poseidon's PT 8000 bridge saw is the perfect example of the company's approach. The specialist machine has been developed to include a range of unique features. It offers motorized miter positioning as standard (which no other stoneworking equipment company does). It runs an auto programmer touch screen – the only 7" LCD color touch screen in the industry. It uses Allen Bradley PLCs (one of the best American brands for the computer.
Unusually, the PT 8000 also offers plunge cutting, enabling the blade to be raised out of the piece at any point along the cut. The bride saw is made with cast iron gantries and carriages, to make it heavier and more stable, with the finished product weighing in at an impressive 16,000 lbs. Additionally, like all Poseidon bridge saws, the PT 8000 comes with a new blade as standard.
This combination of technical expertise, dedication to the quality of the manufacturing process and innovative design is what sets Poseidon apart from the rest of the stoneworking sector, and explains the company's ability to weather the recession so skilfully.
But Poseidon doesn't stop there. The company's principle of commitment to its customers continues well after the sale part of the process has concluded. Poseidon provides a two year warranty as standard on its machines (including the electronic parts), where the majority of its competitors offer a one year warranty and that only on non-electronic parts. For the PT 8000, it also offers a five year warranty on the mechanical X- and Y-axis parts.
With such an approach, one cannot help but admire the company's success and dedication to its core values during the recent years of economic hardship. It is an approach which has enabled Poseidon to thrive and which has positioned the company perfectly to be part of the bright future projected by the IMF.
To find out more about Poseidon Industries, Inc. and their range of innovative products, call (877) 571-5599, email info(at)poseidonmachinery(dot)com, or visit http://poseidonmachinery.com/.
You can also follow Poseidon's latest developments at http://www.youtube.com/poseidonmachinery or by liking them on Facebook: http://www.facebook.com/poseidonmachines