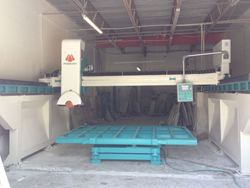 Punta Gorda, FL (PRWEB) June 21, 2014
The latest figures from the Bureau of Labor Statistics have confirmed that the US unemployment rate sat at 6.3% for the second month in a row during May 2014, its lowest level since September 2008. At the same time, the National Federation of Independent Business reported a rise of 1.4 points in its Small Business Optimism Index, which reached 96.6 in May, the highest reading since September 2007.
The figures demonstrate the importance of small businesses to the US economy – a fact that Poseidon Industries, Inc. knows only too well. The leading stoneworking equipment manufacturer specializes in producing heavy duty machinery in its factory in Florida, supplying companies across the US with the tools that they need to manage their stoneworking with precision and efficiency.
Poseidon's PT 7000 bridge saw – their most popular model – encapsulates the company's ethos. With a 24 HP blade motor, 24" blade capacity, motorized miter positioning and 45 degree miter plunge cutting feature, it offers impressive flexibility and accuracy to those using it. An autocuts programme and LC color touch screen provide the operator with an easy to use, intuitive means of addressing his or her stoneworking needs.
The positive picture in the US, both in terms of small business confidence and rising employment levels, is thanks to a refreshed approach by many companies, with Poseidon leading the way in showing how things should be done. The company promotes the strength of the US manufacturing industry by assembling its machines in its Florida factory.
Poseidon's customer support service is also based out of Florida. This service is extremely important to the company's approach, which sees it making (and sticking to) a number of key commitments to its customers. These include a two-month delivery time for the PT 7000 bridge saw, a new blade provided as standard and a two-year warranty on all parts (five on the X- and Y-axis mechanical guide systems).
With the unemployment rate continuing to fall (from a peak of 10.0% in October 2009 to just 6.3% last month) and business confidence on the up, the US seems to be going from strength to strength. However, with businesses such as Poseidon behind it, promoting manufacturing excellence and commitment to fantastic customer, the US economy's growth is hardly surprising.
To find out more about Poseidon Industries, Inc. and their range of innovative products, call (877) 571-5599, email info(at)poseidonmachinery(dot)com, or visit http://poseidonmachinery.com/.
You can also follow Poseidon's latest developments at http://www.youtube.com/poseidonmachinery or by liking them on Facebook: http://www.facebook.com/poseidonmachines.