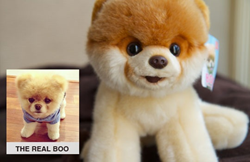 I'm doing this largely for positive publicity and brand ambassadorship amongst families, but more-so to test pilot the idea of giving something away to gain goodwill amongst possible future customers
Chicago, IL (PRWEB) June 18, 2014
YourLifeSolution.com, a service which provides fast online life insurance quotes, is today offering a free 'Boo the Dog' plush toy to the first mother or father to claim it. The life insurance quote service guarantees that no purchase is necessary to claim this prize and that it will be sent within one week of winning. "Boo the Dog, is a plush toy that children adore. I'm doing this largely for positive publicity and brand ambassadorship amongst families, but more-so to test pilot the idea of giving something away to gain goodwill amongst possible future customers. While it is illegal to give something away in exchange for purchasing life insurance, it is entirely legal to give away swag as merely a way to generate attention. If this works, I intend to do it on a mass scale", said Eric Smith, the founder of YourLifeSolution.com.
To be eligible for a free Boo the Dog plush toy, the submitter must not live in the State of New York, must be a parent, and must send the following info to the email address boo AT YourLifeSolution dot com:
-Full Name
-Complete Address
-Birth Date of Submitter
-Child's Name
The winner's name and information will be kept confidential and any submitter's information that is deemed by YourLifeSolution.com to be invalid will be ignored and the next valid submitter will be deemed the winner.
Consumers interested in receiving their own instant life insurance rates online are encouraged to visit YourLifeSolution.com, or call 888.374.2764.