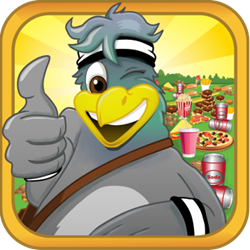 Tubby Bird is on a mission to deliver!
South Burlington, Vermont (PRWEB) June 19, 2014
For those who loved the original wildly-popular Flappy Bird game they are going to go crazy over the new Tubby Bird game.
Tubby Bird is the first game to be launched by Foobarware, a Vermont-based start-up, and provides any gamers—especially Flappy Bird fans—with more fun and excitement than ever.
It's an entertaining, fast-paced game with super graphics, entertaining sound effects and catchy music that has appeal to the whole family. Its unique theme and creative features that allow interactivity with the bird character are said to provide a new type of gaming experience.
In Tubby Bird, players keep the round pudgy bird with his messenger bag flying by tapping the screen. Time the taps to adjust his height so he can safely soar through spaces in sets of columns of various food items. Hit the front of a column and the bird crashes. Game over. Hitting the inside of a column allows Tubby to take a big bite causing him to get bigger, extending the game but making it harder to navigate the next set of columns. With every inside, hit the bird fattens up until he can't squeeze through—or hits a column and crashes.
Excellent game play earns special powers—"burps," "toots," and "mega-belches"—that help give Tubby an advantage in safely navigating through the maze of columns on his way to deliver an important parcel.
One button makes the bird burp and shrinks him down by one size with each press of the button until he is back to his normal size—or the player runs out of burps.
Another button makes the bird "toot" and with each press quickly propels him forward through one set of columns. The toot stops any up or down motion and is helpful if players have not timed flaps correctly and are at risk of hitting a column. But be careful! Press this button at the wrong time and players can get caught in a sticky situation or end the game in a hurry.
Yet another button is the mega-belch. This is a last resort special power that allows Tubby to burp so loud and so powerfully that it blows the columns right out of his way. Even the big bad wolf would be envious.
Players get a free burp by safely navigating through 15 consecutive columns; a toot for 25 consecutive columns and a mega-belch for 50 consecutive columns.
Tubby Bird boasts an extremely well-designed menu system that helps users of any level and experience. The app caters to people worldwide with instructions for several languages built in and by tightly integrating with the company's multi-lingual website. Tubby Bird is the brainchild of software support veteran Peter Perkett who already has a series of follow-up games and apps on the drawing board.
Says Perkett, "Our focus is on delivering quality apps that stand out from the crowd". Perkett went on to say: "I want to create apps that are new, exciting and make people want to see more from Foobarware."
Tubby Bird is initially available on Apple App Store and will soon be available on Google Play Store. The special powers can also be purchased using the shop menu.
For more information, please email or visit: http://www.foobarware.com.