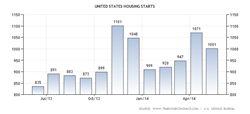 Given that U.S. GDP contracted to 0.1% in the first quarter, builders may have scaled back their efforts accordingly
Chicago, IL (PRWEB) June 18, 2014
Today June 17th, lenders like Peoples Home Equity were disappointed to see a decline in both building permits as housing starts or May. This news comes after the NAHB's survey report on Monday which showed an increase in its housing market index signifying improved builder sentiment.
As shown on TradingEconomics.com, building permits declined -6.4% from April to May and Housing Starts descended -6.5%. This news was a disappointment since currently; U.S. real estate is experience a relentless rise in prices due to the shortage of supply. The housing market desperately needs more inventories to cater to buyer demand. Still, this was the first monthly decline seen in housing starts all year. Given that U.S. GDP contracted to 1% in the first quarter, builders may have scaled back their efforts accordingly. Peoples Home Equity believes that next month has a high chance of seeing housing starts increase again given the impressive rise of weekly home sales this spring.
This news comes a day after the National Association of Home Builders released their Housing Market Index which increased 45 in May to 49 in June. The Housing Market Index is a based on a range of responses from home builders forecasting the housing market over the next 6. Readers should note that while this change was an improvement from May, the number 49 still below 50 which the index labels in the region of a poor market condition.
If the market is in a poor condition now with rising home prices and weekly sales, then just imagine how expensive a property will be when builders view the market as positive! By the time builders view the market as good, home prices might be much higher along with mortgage rates given the higher demand. Peoples Home Equity believes prospective home buyers should definitely apply for a home loan now to at least prepare for locking in a competitive loan rate now instead of taking a chance on the future.
If interested in securing a competitive, lower rate mortgage, consider speaking with a Peoples Home Equity loan officer today details at: 262-563-4026