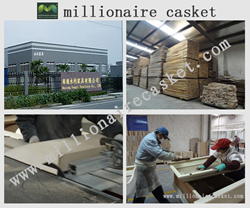 (PRWEB) June 18, 2014
MillionaireCasket.com, a famous casket factory in the current market, has recently updated its product line with a new collection of cedar caskets. In addition, it has announced great discounts (up to 30% off) on all these high quality items. All clients can enjoy the special offer before June 30, 2014.
MillionaireCasket.com is excellent in making great caskets. The new collection comes in various specifications. Its other top quality products include oak caskets, cherry caskets, cedar caskets, ash caskets, mahogany caskets and so forth. All of them are made by the company's experienced workers.
The company's senior spokesman states, "We are excited to release the new collection of cedar caskets for distributors from all over the world. Now, worldwide clients access the discounted items we provide. All of them are promised to be great. What's more, each ordered item will be checked and double checked before delivery. Please note that the special offer will last until the end of June; customers who want to buy the cheap cedar caskets should visit our website now."
For additional information, a lot of the company's caskets sell well in the global market. MillionaireCasket.com always has something for its loyal customers. It insists on hiring experienced workers who are always working hard.
About MillionaireCasket.com
MillionaireCasket.com is a leading casket company that focuses on the business of casket wholesale. This company offers an exquisitely crafted line of all kinds of metal caskets, solid wood caskets, veneer caskets, cremation caskets, rental caskets, orthodox caskets, infant or over-sized caskets and European style coffins. The standard quality control policy is strictly applied here, and a third party quality assurance is also available.
More information can be found at http://www.millionairecasket.com/73-cedar-caskets.