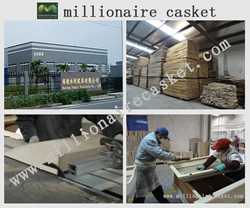 (PRWEB) June 19, 2014
MillionaireCasket.com, a renowned casket manufacturer, has recently announced its new designs of pine caskets. All the company's old and new clients can get a discounted prices, up to 28% off, when ordering any pine caskets on the company's website. The big discounts are offered from today until June 29.
The company's sales representative says that all the new pine caskets are made with natural materials. "We are pleased to unveil our new selection of pine caskets. I hope these high quality items will sell well in the market. At the moment, all the pine caskets are very affordable. The special offer is launched to bring real benefits to our current and prospective customers," he states.
MillionaireCasket.com is one of the largest online sellers of caskets in the world. It is famous for its huge collection of wood caskets. It is now selling hundreds of excellent items on its website. All its products can be ordered online via fully secured transactions. One of the best things about its items is that they are available at very alluring rates.
In the coming months, MillionaireCasket.com will make every effort to create more top quality products for clients throughout the world. The reliable supplier frequently updates its website with new products.
About MillionaireCasket.com
MillionaireCasket.com is a leading casket company that focuses on the business of casket wholesale. This company offers an exquisitely crafted line of all kinds of metal caskets, solid wood caskets, veneer caskets, cremation caskets, rental caskets, orthodox caskets, infant or over-sized caskets and European style coffins. The standard quality control policy is strictly applied here, and a third party quality assurance is also available.
More information can be found at http://www.millionairecasket.com/74-pine-caskets.