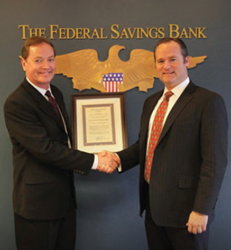 Many college graduates can't qualify for a mortgage because of their DTI ratios.
Chicago, IL (PRWEB) June 18, 2014
The Federal Savings Bank, a Midwest-based veteran lender, finds that many potential first-time home buyers who are college graduates are not able to afford a home due to large amounts of student debt, a trend that the U.S. Consumer Financial Protection Bureau says is holding housing recovery back.
On June 4th, HousingWire reported that the bureau found that the decline in household formations is mostly due to a drop in the number of home buyers aged 18 to 34. Rohit Chopra, assistant director at the CFPB, testified about the issue before the United States Senate Committee on the Budget, noting that the high debt-to-income ratios of these consumers will keep many from a new home purchase for some time.
Many college graduates can't qualify for a mortgage because of their DTI ratios. This challenge presents further strain for some potential home buyers who are stable in all other aspects of their finances.
Students should know that there are many options for those with high student debt to lower their payments, including income-based plans. Yet many are unaware these options exist. Chopra told the Post that the CFPB has a number of education materials for borrowers looking into one of these repayment options.
For post-student applicants, The Federal Savings Bank goes the extra mile to be as educational as possible and lenient as loan standards allow. The lender knows younger applicants may be confused over many parts of the application process; consider The Federal Savings Bank as a mentor and competitive provider of home loan rates.
Contact the Federal Savings Bank, a veteran-owned bank, for information about first-time home buyer programs that can help you get the low cost mortgage you need.