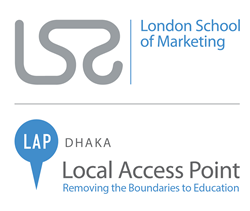 We are proud to be the official partner of LSM in Bangladesh
London, England (PRWEB UK) 18 June 2014
London School of Marketing (LSM), a leading British institution offering accredited marketing and business qualifications in London, has announced their recent partnership with the Global School of Excellence (GSE), located at the heart of the educational hub of Dhaka, Bangladesh. GSE is recognised as one of the most promising educational institutions in Dhaka.
"With IT-driven education as one of our core competencies and considering that students deserve access to quality education no matter where they are located, we have set up Local Access Points (LAPs) around the world," said Anton Dominique, COO/CFO of London School of Marketing. "We are very pleased to welcome GSE as one of our newest and highly qualified partners in Dhaka," he adds.
The partnership with LSM will now allow GSE to deliver an award-winning blended learning platform that will provide its students with a structured learning process. Students will gain an understanding of both the practical and theoretical aspects of their qualification in addition to numerous other benefits, including the ability to earn a British qualification whilst residing in their home country, a flexible study duration and continuous support from both LSM and GSE throughout their studies.
"Providing quality education is our promise and excelling services with differentiation is our motto," said Leonardo Baptista, Principal of the GSE.
"We are proud to be the official partner of LSM in Bangladesh," said Professor Lutfor Rahman, the Centre Head of the GSE. "We are confident that we will provide the ideal platform for students wishing to further their qualifications," he also added.
An associate college of Anglia Ruskin University, LSM offers academic and professional courses in the business and marketing fields, validated and approved by industry leading professional bodies including EduQual, the Chartered Institute of Marketing (CIM), the CAM Foundation (Communication, Advertising, Marketing) and the Digital Marketing Institute (DMI). Courses offered through GSE include the MBA, BA Honours in Marketing, MA in Marketing in Innovation, EduQual Level 7 in Business & Marketing Strategy, EDUQUAL Level 7 Post Graduate Diploma in Business Strategy and EduQual Level 5 Advanced Professional Diploma in Business and Marketing Management.
The LAP at GSE will be inaugurated on Wednesday 18th June, 2014 at 11 am. Suenette Hoon, Head of Partnerships Development from the LSM corporate head office will be present on the occasion. GSE will organise open days on 18th and 19th June 2014 from 10 am to 5 pm, where students, besides attending the presentation, will also have the opportunity to discuss with Ms. Hoon directly regarding the courses, requirements and future prospects. LSM and GSE warmly welcome all students to attend the open days, which will be held at GSE's premises on the following address: House-75, Road-7A, Dhanmondi R/A, Dhaka-1209.
About LSM
LSM delivers accredited marketing and business qualifications and offers courses from recognised professional bodies such as EDUQUAL, CIM, CAM and DMI as well as BA (Hons) Marketing, MA Marketing and Innovation and MBA from Anglia Ruskin University. Based in Central London, it is a QAA approved institution and holds a Highly Trusted Status with the UKBA. The school also has offices and strategic partner institutions around the world. Courses are run across a broad range of study modes. Further details are available at: http://www.londonschoolofmarketing.com.
About GSE
The GSE was founded in 2014 and aspires to establish an excellent reputation in the provision of education to the highest standard. This reputation, along with factors such as their city centre location in the heart of Dhaka, fantastic campus facilities and enjoyable, rewarding social and cultural programs, have made GSE one of the most promising institutions in the educational hub of Dhaka. Further details on this partnership can be found at http://www.londonschoolofmarketing.com/dhaka.