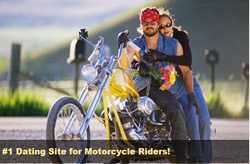 (PRWEB) June 18, 2014
As the World Cup is being held at this time, the editors at bikerkiss.com thought it would be interesting to find out how biker singles and couples feel about the world cup together with what they do that is related to it. By asking users about this matter on the site's forums, interesting responses have come up.
Kristian and his girlfriend Amy are two lucky persons who met up on this biker dating site around a year ago. Their response was that they are already in Brazil and that the atmosphere is nothing short of amazing. They were surprised to find out that such a high number of people were this crazy about football.
Sarah, who is a girl studying at a university in Queensland, Australia stated that, "Sometimes I'd stay up late to watch a game, but I'm not really much of a football fan. I kind of began to like the feeling when I yell like crazy because someone scores a goal. Besides, many players on the field are really handsome. Lol." Perhaps some of them are even on Bikerkiss.com.
Matt is a big football fan from New Jersey who said that he is now spending his time drinking beer whilst watching the game at his house, despite the fact that his girlfriend doesn't like it very much. It seems that the same opinion is shared by 36% of the forum members who expressed their opinion, while their girlfriends prefer to do something else. Excitement can be seen when it comes down to talking about the World Cup with David, from Swansea, Wales, who stated that he would watch every single game that England will play. He seems like a true patriot and football fan.
Other members such as Bob, from New Hampshire, US said that his participation will mean a bit of lottery. Who knows, the World Cup may represent the luckiest time for him. Of course, there are also the members who are not very interested in soccer. Tom, from North Dakota, US, said that he isn't going to do anything, as it is just soccer.
In the end, it seems like many biker singles think of football as a very interesting sport as it is a great source of fun and relaxation, but also a way to make a dime through the lottery.
Find out more about the world's leading dating site for bikers at: http://www.bikerkiss.com.