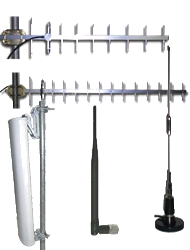 (PRWEB) June 18, 2014
ZDA Communications, a well-known manufacturer of wireless antenna, has recently introduced its new 4G LTE antenna at its website. This new 4G LTE antenna combines ZDA Communications' latest technology and design. As the 4G technology covering more and more countries, to have an access to 4G network is necessary. ZDA Communications' newly designed 4G LTE antenna is a great choice for those customers who want a fluent connection to 4G network.
4G LTE is a standard for wireless communication of high-speed data for both cell phones and data terminals, which is based on the GSM/EDGE and UMTS/HSPA network technologies, increasing the capacity and speed using a different radio interface together with core network improvements. A 4G antenna is one method of getting connected to 4G network. ZDA Communications has mature technology to develop 4G LTE antenna for customers, and it provides customized service to meet clients' different needs.
ZDA Communications' 4G LTE Antenna series for 3GPP Long Term Evolution (LTE) cover varying types of antenna, including Yagi Antenna, Omni Directional Antenna, Parabolic Antenna,Sector antenna, and Access Point (AP) and Client Antenna. They are applicable for US 700 MHz LTE Band & Europe 2.6 GHz LTE band,support 3GPP 4G LTE network. Such as Verizon 750 MHz C BLOCK Band (746–757 and 776–787 MHz), AT&T 700 MHz B Block band (704–710 and 734–740 MHz).
About ZDA Communications
ZDA Communications US LLC is an ISO9001 manufacturer and supplier of all kinds of wireless antennas, including Yagi antennas, Parabolic dish antennas, cell tower sector antennas, External wireless antennas, mobile antennas, Broadband and Ultra Wide Band Antennas. For more details of ZDA Communication and its products, please visit http://www.zdacomm.com/wireless-antenna-category-by-applications/lte-antenna/.