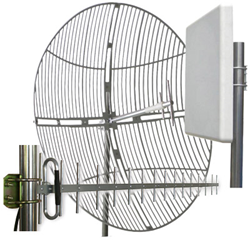 (PRWEB) June 22, 2014
ZDA Communications, an ISO 9001 Manufacturer of wireless antenna, has its latest 900 MHz antenna released on its website: http://www.zdacomm.com. This series of 900 MHz antenna is high-performance and good quality with an affordable price, including Yagi, parabolic dish, Fiberglass omni directional, Rubber Duck style antenna, Mobile, Sector, and patch antenna. All of them are available online. This series of ZDA Communications' 900 MHz antennas is applicable for Motorola canopy, Non Line of Sight (NLOS), RFID & SCADA, RFID, Wireless Video Links & 900MHz Cellular, Wireless LAN systems, Point to Point & Point to Multipoint applications, 900MHz ISM Band.
Each type of this series of 900 MHz antenna is designed for all weather operations and with high gain and good front to back performance to minimize external interference. Not just the 900 MHz antenna itself, ZDA Communications also affords a variety of options of the customized solutions for 900 MHz External Wireless Antenna, connectors, pigtail and brackets to help customers better use their products.
A customer from Australia thought highly of ZDA Communications' 900 MHz Yagi antenna. He said, "This is the best antenna that I ever have. It's practical and convenient. Even in a terrible weather condition, this antenna can work well." He also praised ZDA Communications' technology to make the antenna small but exquisite.
About ZDA Communications
ZDA Communications US LLC is an ISO9001 manufacturer and supplier of all kinds of wireless antennas, including Yagi antennas, parabolic dish antennas, cell tower sector antennas, external wireless antennas, mobile antennas, Broadband and Ultra Wide Band Antennas. For more details of ZDA Communication and its products, please visit http://www.zdacomm.com/900-mhz-antenna/.