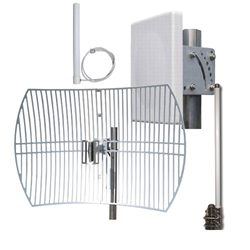 (PRWEB) June 24, 2014
ZDA communications is an ISO 9001 manufacturer supplying quality wireless antennas at affordable prices, and it updates its website with its latest WiFi antenna today. This WiFi antenna is high-performance which means it's weather resistant and waterproof high-gain antenna. It also provides an excellent choice for outdoor and indoor applications in the 2.4GHz & 5GHz band, IEEE 802.11a, 802.11b, 802.11g and 802.11n (Pre-N, Draft-N, MIMO) access points and routers WiFi, bluetooth and public wireless hotspots, Homeland Security & Public Safety Services: Fire, Police.
There are several types of WiFi antennas available, including wifi Yagi antenna, wifi grid antenna, wifi parabolic dish antenna, wifi omni directional antenna, rubber duck antenna, mobile antenna, flat panel antenna and CPE enclose panel antenna. Check the details of these wifi antennas at http://www.zdacomm.com/wireless-antenna-category-by-applications/wifi-antenna/. If customers want a wifi antenna or more information, they can contact ZDA Sales Representatives. ZDA communications guarantees customers all their products' good quality. These antennas are designed and engineered these antennas for years of operation even under harsh conditions. And before each antenna leaves the manufacturing facility, they are individually tested and are covered by a two-year limited warranty term.
About ZDA Communications
ZDA Communications US LLC is an ISO9001 manufacturer and supplier of all kinds of wireless antennas, including Yagi antennas, Parabolic dish antennas, cell tower sector antennas, external wireless antennas, mobile antennas, Broadband and Ultra Wide Band Antennas. For more details on ZDA Communication and its products, please visit http://www.zdacomm.com/.