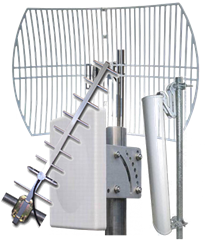 (PRWEB) June 26, 2014
ZDA communications is an ISO 9001 approved manufacturer supplying quality wireless antennas at affordable prices and it reveals its latest 700 MHz antenna on its website today. This new 700 MHz band affords more possibilities for the wireless industry. ZDA communications has a full range of 700 MHz antennas available. No matter users are looking for the 700 MHz white space, 700 MHz LTE/WiMAX or planning ahead for public safety applications at 700 MHz, they are all on ZDA's website.
ZDA Communications offers cost-effective, high-quality, and stable 700 MHz Antenna products, and the offerings of 700 MHz antennas include: Yagi antennas, sector and omni-directional site antennas, mobile antennas and rubber duck style antennas for portable devices. Meanwhile, single-band and multi-band options are available. These introduced 700 MHz antennas can operate perfectly and increase the communication efficiency in the desired places. Most of these 700 MHz antenna products are designed for all weather operation.
A sales director of ZDA's manufacturing facility said that each of its products will be tested and will be covered by a two year limited warranty term. ZDA Communications focuses on the quality of its products in order to let the customers have a better experience while using its products. The quality of its products is the lifeline of ZDA Communications and the key to keep its competitiveness.
About ZDA Communications
ZDA Communications US LLC is a leading manufacturer and supplier of all kinds of wireless antennas, including Yagi antennas, Parabolic dish antennas, cell tower sector antennas, External wireless antennas, mobile antennas, Broadband and Ultra Wide Band Antennas. For more details of ZDA Communication and its products, please visit http://www.zdacomm.com/700-mhz-antenna/.