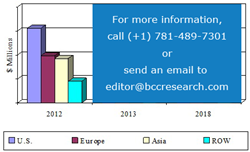 Global Market for Systemic Antibiotics to Reach $41.2 Billion in 2018
Wellesley, MA (PRWEB) June 18, 2014
BCC Research (http://www.bccresearch.com) reveals in its new report, Antibiotics: Technologies and Global Markets, the global market for systemic antibiotics is expected to grow to $41.2 billion by 2018 with a compound annual growth rate (CAGR) of 0.8% between 2013 through 2018. Asian countries account for the fastest-growing market with a five-year CAGR of 1.2% due to the increasing aging population, increasing GDP rate and increasing awareness about healthcare.
The global systemic antibiotics market is primarily driven by the aging population worldwide, the increasing prevalence of hospital-acquired infections, and the resultant increase in infectious disease and rising demand for novel antibiotics from the pharmaceutical industry.
Nevertheless, a major paradigm shift in the regulatory framework has caused a positive impact on the overall growth of the antibiotics market. Economic conditions and cost-containment issues have compelled North American and European antibiotic manufacturers to explore new regions, such as India, China and Brazil, for growth opportunities.
Antibiotic resistance is a serious problem globally. New antibiotics to tackle resistant bacteria are urgently needed; however, a recent report from the European Centre for Disease Prevention and Control and the European Medicines Agency (EMA) warns of an almost empty pipeline, leaving patients vulnerable to dangerous infections. If new antibiotics are not developed, the entire healthcare industry could face challenges not seen since the pre-bacteria era. Public-private partnerships are encouraging specific programs that will address these needs; in certain regions, government agencies are working with the pharmaceutical industry to provide support to the declining antibiotic pipeline.
"Development of novel antibiotics to combat multidrug-resistant strains, and targeting non-multiplying bacteria are expected to play a vital role in market growth," says BCC Research Analyst, Neha Maliwal. "The positive change in the regulatory framework is encouraging pharmaceutical manufacturers to invest in new antibiotics, which in turn are also expected to drive the sales volume of the antibiotics market during the forecast period."
Antibiotics: Technologies and Global Markets provides an in-depth analysis of the global market trends for systemic antibiotics with data from 2012, estimated data from 2013, and projected data for 2018. Rising concerns over healthcare costs have driven many pharmaceutical companies to look for alternatives to maintain their existing profits while improving them in the future. The report includes the profiles and market shares of seven key players in the global antibiotics market.
Editors and reporters who wish to speak with the analyst should contact Steven Cumming at steven.cumming(at)bccresearch(dot)com.
About BCC Research
BCC Research publishes market research reports that make organizations worldwide more profitable with intelligence that drives smart business decisions. These reports cover today's major industrial and technology sectors, including emerging markets. For more than 40 years, we have helped customers identify new market opportunities with accurate and reliable data and insight, including market sizing, forecasting, industry overviews, and identification of significant trends and key competitors. We partner with analysts who are experts in specific areas of industry and technology, providing unbiased measurements and assessments of global markets. Our clients include the top companies in industries around the world as well as universities, business schools, start-ups, consulting firms and investment companies. BCC Research is a unit of Eli Research LLC. Visit our website at http://www.bccresearch.com. Contact us: (+1) 781-489-7301 (U.S. Eastern Time), or email information(at)bccresearch(dot)com.
Data and analysis extracted from this press release must be accompanied by a statement identifying BCC Research LLC, 49-2 Walnut Park, Wellesley, MA 02481, Telephone: (+1) 781-489-7301; Email: editor(at)bccresearch(dot)com as the source and publisher. Thank you.