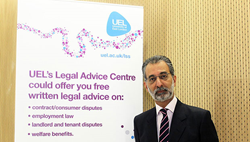 I congratulate the University of East London on your enthusiasm in the setting up and the running of the Law Clinic and I look forward to participating in future sessions
London, United Kingdom (PRWEB UK) 18 June 2014
The Legal 500 recommended law firm has awarded cash prizes and intern work placements to three University of East London Law Clinic students in recognition of their exceptional services to the University's pro bono advice service.
The prizes were awarded at a presentation seminar held on 12th June 2014 with guest speaker Baroness Doreen Lawrence and Imran Khan addressing the students on "spycops & the Ellison Review."
The prizes were awarded in order of place to Miss Naomi Ling, Miss Lucie Darrall and Miss Sheeran Brown on behest of the national law firm by David Head, a Director of the firm's Housing department and member of the Duncan Lewis Pro-Bono Committee. Mr Head commented:
"I congratulate the University of East London on your enthusiasm in the setting up and the running of the Law Clinic and I look forward to participating in future sessions."
In their work with the UEL Law Clinic, the students conducted client interviews, researched relevant areas of law and drafted letters of advice to clients.
Ms Ling, who won the first prize of £100 and a work internship worked on the most number of cases. This included providing advice on the liabilities of charity trustees, contesting council tax liability, a tenancy deposit dispute and an employment dispute.
Ms Darrall, who won the second prize of £75 and a work placement assisted clients with a range of matters including, advice on the grounds and procedure for divorce, a customer making a complaint against their bank and successfully appealed against a Transport for London bus ticket evasion penalty notice.
Ms Brown, recipient of the third prize of £75 and a work placement worked on a number of cases including one where she assisted a client to submit representations to the police to impose a driving awareness requirement instead of prosecuting the client for a first time speeding contravention.
Professor Nora Colton, UEL's deputy vice chancellor, said on a statement on the UEL website: "These placements will enable our students to gain valuable experience of working in the largest legal aid provider and one of the country's best law firms where they will undertake substantive legal work, considerably improving their chances of gaining employment, which is incredibly important to our university. We hope other law firms will also be motivated to follow Duncan Lewis' fantastic lead of providing work placements for our talented, dedicated and hard-working students."
Duncan Lewis: Helping the next generation:
In 2009 Duncan Lewis became the first UK law firm to achieve the Investors in People Gold Standard. As part of its social and community policy, Duncan Lewis currently runs an established internship / volunteer programme which enables law students and other young people a direct opportunity to gain invaluable work experience and insight within a national law firm which is nationally recognised by Legal 500 for its excellence. Duncan Lewis is committed to helping the next generation of solicitors. The firm is authorised by the Law Society to offer approximately 100 Law Society training contracts per training period.
Pro-Bono commitment:
Duncan Lewis Solicitors are also committed to pro bono work. The work of the Duncan Lewis pro bono committee includes their Cardiff pro bono Drop-In legal clinic in association with LawWorks Cymru in Cardiff which offers free pro bono advice in the areas of housing, welfare benefits, family, child care, landlord & tenant, community care and public law which are supported by specialist directors, solicitors and trainee solicitors.
Furthermore, Duncan Lewis' Dalston drop-in legal surgery saw an outstanding volume of client turnout on Tuesday 22nd April with many vulnerable clients leaving with expert solicitation and hope regarding their varied legal issues.
Duncan Lewis also support numerous other pro bono activities: 'Rights for Women' Charity where Duncan Lewis Women Solicitors provide telephone advice for women; fortnightly social welfare & family law legal clinic at the offices of 'Turkish Cypriot Women's Association' (TCWA) in Haringey where Turkish speaking women lawyers provide advice to the women's organisation; 'Lewisham Reach' supported by lawyers from Duncan Lewis Lewisham office in which the outreach service looks to target help for 21 – 55 year olds living in the Borough; Duncan Lewis Dalston lawyers support the University of East London Legal Clinic; numerous other CAB's & legal clinics supported by Duncan Lewis lawyers and pro bono committee members.
Duncan Lewis' commitment to pro bono activities has seen them acquire several industry accolades, such as short listing in the LawWorks Pro Bono Awards 2014 under the category "Best contribution by a law firm" and being recognised as the LawWorks Firm of the Month in February.
About Duncan Lewis
Duncan Lewis, established in 1998, is the largest civil legal aid practice in the UK and one of the country's fastest growing firms of solicitors, serving both corporate entities and private individuals from offices across London and throughout the UK. A recommended leading law firm by Law Society Lexcel, Legal 500; Duncan Lewis employs over 500 members of staff and was the first law firm to achieve the Investors in People Gold Quality Standard Mark in 2009. Representing over 25,000 clients per year, the company has an excellent reputation in the Administrative Court, High Court and Court of Appeal in the Immigration, Public law and Family/Child Care jurisdictions.
Established areas of law are: business immigration, child care, civil liberties, clinical negligence, community care, crime and fraud, dispute resolution, debt and insolvency, employment, family and divorce, housing, asylum and immigration, litigation, mental health, personal injury, prison law, professional negligence, public law and administrative law, regulatory matters and welfare benefits.