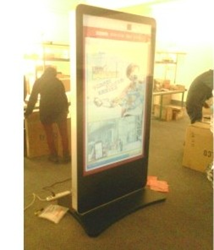 (PRWEB) June 19, 2014
Recently, Digital-Signage-China.com, the distinguished digital signage manufacturer, has added 60 new 65 Inches Floor-Standing Digital Signage LCD Advertising Players to its digital signage advertising collection. In addition, the company has launched a summer promotion for these brand new items; all customers can enjoy a discounted price, up to 28% off, before June 30, 2014.
As a leading supplier in the world, Digital-Signage-China.com knows the importance of product quality. All its 65 Inches Floor-Standing Digital Signage LCD Advertising Players are made with top quality materials. At the moment, they are quite affordable.
Also, the high end digital signage advertising machines from Digital-Signage-China.com are provided in various specifications. They are specially manufactured to meet the great demand in the current market. Each of them can offer excellent performance. They are all carefully made by the company's professional design team.
Last but not least, Digital-Signage-China.com has been working in the digital signage industry for a long time and it has a vast knowledge of craftsmanship. In its online store, all workers are kind and patient. The company has a wide variety of high quality advertising players for sale. Its aim is to provide worldwide clients with high quality devices at acceptable rates. It frequently updates its product category.
About Digital-Signage-China.com
Digital-Signage-China.com is a well-known digital signage technology company with the eligibility of production, installation and maintenance of digital signage products. The company has much experience in the industry, and its customers are provided with the best resources and professional tips. It aims to offer all kinds of high end digital signage products for the global market.
For more information about the business and its digital players, visit http://www.digital-signage-china.com/.