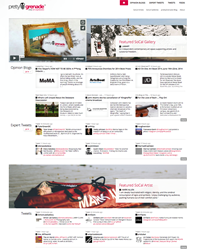 Los Angeles, California (PRWEB) June 23, 2014
Pretty Grenade is an interactive visual art news, information, and opinion site featuring daily art explosions, and artists and galleries who challenge the status quo. Special focus is given to the art scene in Southern California.
Combining art's various responsibilities, Pretty Grenade supports the theme, "be beautiful, be disruptive." Art has not only decorative and aesthetic value, but also draws attention to and offers new perspectives on human, cultural, political, and social issues. The grenade, on the other hand, is a symbol of disruptive ideas. It has the ability to disrupt and is activated and inspired by the hand of man, dangerous and inviting.
Pretty Grenade covers expert tweets, opinion blogs, as well as news by the art press, public and private institutions, and other players in the art world as they happen. Responding to the lack of discourse around the art scene in Greater Los Angeles, the website welcomes contributions by SoCal art writers, critics, and bloggers.
Get in contact: editor(at)prettygrenade(dot)com
Publisher: Simon Raab // http://www.parleau.com
Pretty Grenade - daily art explosions
Launch: 23 June, 2014