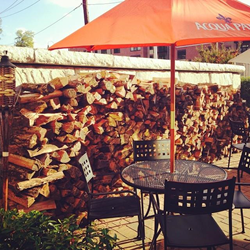 Richmond, VA (PRWEB) June 18, 2014
Leading commercial furniture distributor, Restaurant Furniture.net recently teamed up with Flames 231 in Shokoe Bottom, Virginia to provide them with new outdoor furniture.
Flames 231 Authentic Wood Fire Pizza serves pastas, Neapolitan pizza, sandwiches, salads, Mediterranean dishes, gluten-free pizza, cooking classes and catering.
Flames 231 is named after Train 231 that collapsed in the Church Hill Tunnel in 1925. Part of the newly renovated Cold Storage project on 18th Street north of Broad Street, this "authentic wood-fired pizza" restaurant is a visual stunner. Huge red lanterns and floor-to-ceiling windows offset exposed brick walls and concrete floors. A long, sleek bar offers unobstructed views of the pizza oven's open flames.
Flames attempts to differentiate itself in the already-saturated Richmond pizza market by offering an all-Italian wine list ($6-$9 a glass, $20-$58 a bottle) and appetizers not found at typical pie joints. The menu includes a range of antipasti including calamari fritti bruschetta and polpettine (homemade meatballs). The fare also includes insalate, pasta dishes a wide range of pizzas and subs.
The owner, a native of Italy, contacted Restaurant Furniture.net to buy new patio furniture. He chose Restaurant Furniture.net because of their reputation as a valued manufacturer of high quality commercial furniture and competitive prices.
For new seating the owner decided to go with Restaurant Furniture.net's Basket Back Outdoor Chair in black finish. The patio chairs come with a netted back and seat. The finish is zinc plated with a powder coat finish. Anchors are weighed to the tube of the legs to reinforce stability. The Beach House Outdoor Chair sells for $45 on Restaurant Furniture. Net.
He also bought Round Outdoor Patio Tables. The table sets are also netted and include a hole in the center to accommodate patio umbrella poles, Like the Beach House Outdoor chairs, the table's finish is zinc plated with a powder coat finish. The square shaped table which includes legs has rolled pipe edges. The outdoor patio tables come in square and round shapes in various sizes. Prices for the Outdoor Patio Tables start at $80.
"The Basket Back Outdoor Chair & Outdoor Patio Table were just what the owner wanted to complete the elegant look he wanted for his patio seating," said David M., salesperson for Restaurant Furniture.net. "It was also important for him to have a matching set to give him that cohesive look."
Browse Restaurant Furniture.net's full selection of commercial grade chairs, bar stools, table tops, table bases, booths and patio furniture at http://www.restaurantfurniture.net or talk to a customer service representative at (888) 409-1115.
Flames 231 is located at 423 N. 18 St. in Richmond, VA. They can be contacted at: (804) 977-1300.