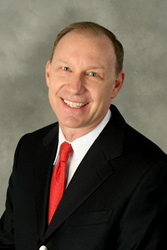 Vienna, VA (PRWEB) June 18, 2014
Residents in search of options for gum disease treatment in Vienna are invited to visit Dr. William Dougherty's new Vienna practice and find out about a minimally invasive periodontal disease treatment called the Laser Assisted New Attachment Procedure (LANAP®). All periodontal disease patients who are experiencing mild, moderate, or advanced gum disease symptoms are invited to learn more about this innovative method of laser gum surgery and find out if they qualify to receive the procedure.
Millions of Americans suffer on a daily basis from the symptoms of gum disease. Even the mildest gum disease indications can advance to more serious and concerning symptoms if treatment is not sought right away. Dr. Dougherty now invites residents to consider laser gum surgery with LANAP®, a highly effective gum disease treatment in Vienna offering numerous oral health benefits.
Traditional treatment for gum disease involves removing inflamed and infected gum tissue with the use of a small scalpel, then suturing up the area once the procedure is completed in order to facilitate healing. LANAP® differs from traditional gum surgery because it does not require the use of either scalpels or sutures. Instead, a powerful and highly accurate laser specifically targets gum tissue infected by bacteria that cause gum disease. Once the infected gum tissue is located, the laser emits small, targeted pulses to remove the diseased tissue, and then seals off the area while minimizing bleeding. Because no sutures are required, healing time and discomfort are reduced and patients are able to resume normal activities quicker than they would be able to after receiving traditional gum surgery.
Dr. Dougherty is pleased to open his practice doors to residents who need the relief that gum disease treatment in Vienna can offer. It is important for periodontal disease patients to receive prompt treatment in order to minimize their oral health risks and regain their quality of life. Gum disease patients who are searching for an alternative to traditional gum treatments in the form of laser gum surgery are invited to schedule a consultation with Dr. Dougherty's office and find out if they qualify to receive LANAP®.
About The Doctor
William V. Dougherty, III, DDS is a general dentist offering patients personalized dental care in Falls Church, VA. He is part of one percent of dental professionals providing the LANAP® FDA cleared laser procedure for gum disease and periodontal treatment. To learn more about William V. Dougherty, III, DDS and his dental services, visit his website at http://www.doughertylaserdentistry.com and call (703) 584-7554.