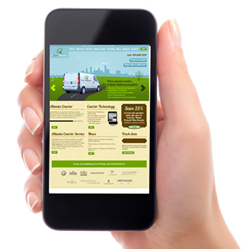 Atlanta, GA (PRWEB) June 19, 2014
AQuickDelivery, a superior leader in same-day delivery, messenger and transportation services, announces residential automated proof of delivery notifications. With the announcement, the Atlanta courier seeks to market its services to a residential customer base, increase same-day delivery sales, and inform customers of its value-added services utilizing the latest in courier technology. AQuickDelivery strives to be the best choice in same-day courier solutions throughout Atlanta and Georgia areas.
AQuickDelivery offers residential automated proof of delivery notifications for all customers. Whether the order is placed via phone or online, A-1 Express will request an e-mail address to send an automated notification. At the submission of every order, the A-1 Express E-Courier System stores the e-mail address and a proof of residential delivery e-mail is sent once it is completed. The automated proof of delivery notification includes the recipient's signature, the delivery time and the receipt date.
For local and long-distance residential courier services, customers are requested to inform the courier whether the package can be delivered without a signature. If the client approves, the courier will leave the package, and the residential automated proof of delivery will reflect that it was left at the door or any other specific action directed by the customer to do with the package. Also, if the driver had to leave the package under the mat or at the side door, this information will be within the residential proof of delivery. For online orders that entail a residential delivery without stating whether it is approved to leave the package if no one answers the door, A-1 Express Dispatch will contact the customer for delivery directives.
The A-1 Express automated proof of deliveries offers customers a convenient communication tool for package delivery status, which can be received with mobile devices. These residential deliveries can be tracked online as well. A-1 Express is available 24/7 for their customers for any residential location adjustments, proof of delivery questions or e-mail address notification alterations.
AQuickDelivery is a leading provider of same-day delivery, messenger, distribution, and transportation services. From small packages to palletized freight, A-1 Express provides superior delivery services on-time and fast. As a leader in the courier industry, their goal is to perform optimal courier logistic solutions and superior customer service every time. From its' headquarters based in Atlanta, Georgia, AQuickDelivery has a daily growing list of over 1,500 clients, including many Fortune 500 companies, throughout Georgia.