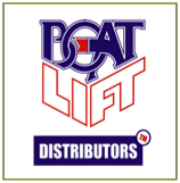 Nice boats and effective boat lifts go hand-in-hand.
Houston, Texas (PRWEB) June 20, 2014
Nice boats and effective boat lifts go hand-in-hand. Although many may spend an arm and a leg on a boat, they tend to forget the importance of purchasing a boat lift to fulfil their maritime needs. Boat lifts function the same way a garage does for a car; it houses and protects the boat. The owner of a Lamborghini Veneno Roadster, for example, would not want to house it in some ramshackle garage that looks to be on the verge of collapse. One must look at his or her boats with the same reverence. Waterman's Restaurant & Marina of Galveston, Texas does, and it looks to Boat Lift Distributors.
Boat Lift Distributors is ecstatic to announce that they have recently been awarded 80 boat house boat lifts at Waterman's Restaurant & Marina on the west end of Galveston, TX in Pirate's Cove. This continues the strong relationship that Boat Lift Distributors has with Waterman's; building on the 120 slips that Boat Lift Distributors was awarded two years ago.
Waterman's Restaurant & Marina, the 200 boat slip marina, is well maintained with easy in and out access at affordable annual boat lift rental rates. There are over 120 6,000-lb. rated kits, which are perfect for baby boats up to 24'. The balance of the lifts are rated at over 8,000-lbs., ideal for bigger bay boats and medium size offshore boats. With new boat lift equipment, the facility is set to impress residents in and around Galveston.
Whether residents are looking for a bite to eat or a fishing adventure, Waterman's is sure to deliver. Waterman's knows that honesty, quality service, superior products at affordable pricing is hard to find these days, and this is why they only choose Boat Lift Distributors for all of their lifting needs.
From humble beginnings in a garage in Humble, TX to being #1 in boat lifts around the world for contractors and the retail market, Boat Lift Distributors knows a thing or two about high quality boat lifts, boat lift parts, boat hoists & motors, boat dock accessories and other boating accessories. BLD is your one stop shop for all mooring needs.
About Boat Lift Distributors: For forty plus years, Boat Lift Distributors has been proudly serving clients from all over the world, including the United States, Mexico, Central America, South America, Europe, Australia, New Zealand and parts of Asia. In addition to boat lifts and boat lift repair, BLD also offers boating accessories, such as electric winches, coolers, fish cleaning tables and much, much more. Give them a call at 1-800-657-9998.