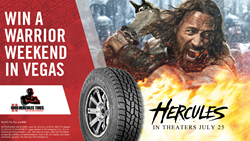 FINDLAY, Ohio (PRWEB) June 18, 2014
This summer, Hercules Tires® wants to send you on an epic weekend adventure. In partnership with Paramount Pictures and Metro-Goldwyn-Mayer Pictures, Hercules Tires kicks off the Hercules Tires Warrior Weekend Sweepstakes in anticipation of the July 25, 2014 release of Paramount Pictures and Metro-Goldwyn-Mayer Pictures' epic action movie "Hercules," directed by Brett Ratner and starring Dwayne Johnson.
The Hercules Tires Warrior Weekend Sweepstakes begins June 18, 2014 and runs through August 8, 2014. The sweepstakes will be supported with a co-branded promotional campaign including point of sale materials at independent tire dealer shops nationwide, print ads, digital and social media support.
"We're excited about this partnership and the chance to help create some memorable summer weekends," said Joshua Simpson, Hercules Tires' vice president of marketing. "It's not a coincidence that our tires are named after one of the mightiest and most heroic figures in literature. For more than 60 years, Hercules brand tires have delivered the quality and strength necessary to handle the toughest challenges on and off the road."
The Hercules Tires Warrior Weekend Sweepstakes offers one Grand Prize winner and a guest a legendary weekend trip to Las Vegas that includes tickets to a major mixed martial arts event, three nights at luxurious Caesar's Palace and $1,000 splurging cash.
To help create even more of those epic summer weekends, three (3) First Prize "Warrior Winners" will receive a set of the toughest Hercules Tires and five (5) Second Prize winners will receive a Road Warrior package made up of a $250 gas card and Hercules Tires roadside-ready kit. Twenty-five (25) Third Prize winners will receive a limited edition T-shirt or hat. Winners will be chosen at random on August 12, 2014.
There is no purchase necessary. Some restrictions apply. Void where prohibited. For official rules and to enter for a chance to win, visit http://www.herculestire.com/warriorweekend.
To find a nearby Hercules Tires dealer, visit http://www.herculestire.com/find-a-dealer. The Hercules Tires Warrior Weekend Sweepstakes registration page can be found at http://www.herculestire.com/warriorweekend.
From Paramount Pictures and Metro-Goldwyn-Mayer Pictures, "Hercules" stars Dwayne Johnson as both man and myth, leading a band of mercenaries to help end a bloody civil war in the land of Thrace and return the rightful king to his throne. A tormented soul from birth, Hercules has the strength of a God but feels the suffering of a human. Unimaginable villains will test the mythical power of Hercules in director Brett Ratner's gritty take on one of the most epic action heroes of the ages. The film also stars Ian McShane, Rufus Sewell, Joseph Fiennes, Peter Mullan, Aksel Hennie, Ingrid Berdal, Reece Ritchie, Tobias Santelmann, Rebecca Ferguson, Isaac Andrews and John Hurt.
"Hercules" is produced by Beau Flynn, Barry Levine and Brett Ratner. Based on Radical Comics' "Hercules" by Steve Moore, with a screenplay by Ryan J. Condal and Evan Spiliotopoulos. Directed by Brett Ratner.
About Hercules Tires
Hercules Tires® is widely recognized as the industry's premier value brand with a comprehensive selection of passenger, UHP, light truck, medium truck, trailer, off-the-road, industrial and specialty tires. Since 1952, independent tire dealers and distributors have trusted Hercules to deliver outstanding quality, exceptional support, and unsurpassed value.
Hercules is a wholly owned subsidiary of American Tire Distributors, Inc. American Tire Distributors is one of the largest independent suppliers of tires in the North American replacement tire market. The company offers an unsurpassed breadth and depth of inventory, frequent delivery and value-added services to approximately 72,000 customers across the U.S. and Canada.
Additional information can be found at http://www.herculestire.com.
About Paramount Pictures Corporation
Paramount Pictures Corporation (PPC), a global producer and distributor of filmed entertainment, is a unit of Viacom, a leading content company with prominent and respected film, television and digital entertainment brands. Paramount controls a collection of some of the most powerful brands in filmed entertainment, including Paramount Pictures, Paramount Animation, Paramount Vantage, Paramount Classics, Insurge Pictures, MTV Films, and Nickelodeon Movies. PPC operations also include Paramount Home Media Distribution, Paramount Pictures International, Paramount Licensing Inc., and Paramount Studio Group.
About Metro-Goldwyn-Mayer
Metro-Goldwyn-Mayer is celebrating 90 years as a leader in the entertainment business and as an innovator in the industry. Today, MGM is an entertainment company focused on the production and distribution of film and television content globally. The company owns one of the world's deepest libraries of premium film and television content. In addition, MGM has investments in domestic and international television channels. For more information, visit http://www.mgm.com.