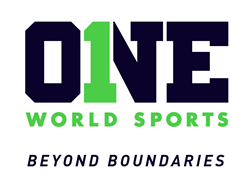 "Mike Haysman's expert knowledge of cricket stands out in this passionately followed sport," said Alexander "Sandy" Brown, president and CEO of ONE World Sports.
New York, NY (PRWEB) June 18, 2014
ONE World Sports, America's Network for Global Sports, today announced that former Australian star batsman and current internationally renowned broadcaster Mike Haysman will join the network for its exclusive U.S. television coverage of the England national cricket team. Haysman's deep expertise is founded on a 30+ year involvement with the game of cricket. Regarded as one of the sport's top batsmen during his days playing for teams throughout Australia, England and South Africa, Haysman has since become one of the sports' premier television commentators.
In April, ONE World Sports announced it had secured multiyear, multiplatform North American rights to carry every home match of the England national cricket team through 2017. The agreement adds over 500 hours of live content to the network's linear and digital services. ONE World Sports' in-depth cricket coverage includes exclusive pre- and post match shows and a daily highlights show.
Global cricket viewership on television regularly runs into hundreds of millions for big matches between rival countries, and there are 85 million Facebook fans of cricket worldwide.
"Mike Haysman's expert knowledge of cricket stands out in this passionately followed sport," said Alexander "Sandy" Brown, president and CEO of ONE World Sports. "As a globally respected broadcaster, Mike's deep insights into the game will be invaluable for our production, marketing and social media teams as we bring these events to fans throughout the United States."
July boasts several major events in the world of cricket. On July 5th ONE World Sports will televise live and exclusively in the United States the day-long Marylebone Cricket Club (MCC) vs. Rest of the World XI. The exhibition match, considered cricket's version of an all-star game, will be played at London's prestigious Lord's Cricket Ground, on the occasion of its bicentennial. Coming out of retirement to captain their respective teams are Sachin Tendulkar, widely considered the greatest cricketer ever with more than 34,000 international runs, who will lead MCC; and Shane Warne, the Australian widely considered one of the game's greatest bowlers, will captain the Rest of the World. Separately, England faces a major rival, India, beginning July 9 and running through September.
ONE World Sports is a multiplatform sports network featuring exclusive, live world-class sporting events from around the globe. The network showcases some of the world's most competitive soccer including Arsenal FC TV, Chelsea FC TV, FC Bayern Munich TV, AC Milan Channel and the New York Cosmos, along with top soccer from Asia and the Pacific Rim. The network also exclusively telecasts England's national cricket team's international home matches; Japan's legendary baseball team, the Yomiuri Giants; Kontinental Hockey League; Chinese Basketball Association; OneAsia Golf Tour; and the world's best-in-class competitions in table tennis and badminton.
According to research for ONE World Sports by Frank N. Magid Associates, 56% of 18- to 34-year-olds and 63% of all males in the same age group expressed interest in watching the network.
ONE World Sports is available via DISH Network, Cablevision's Optimum TV, Mediacom Communications, Hawaiian Telcom, Google Fiber and Verizon FiOS.
ONE World Sports is owned and operated by ONE Media Corp., which also owns and operates ONE CONNXT, a global HD/SD broadcast video transport services provider; and America ONE Sports, a leading provider of live broadband sports.
For more info, see http://www.oneworldsports.com.
Contact:
Tom Campo
Campo Communications, LLC
212-590-2464
Tom(at)CampoComm(dot)com