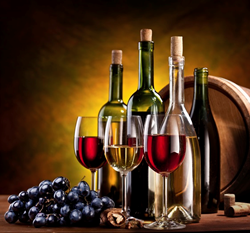 Boston, MA (PRWEB) June 19, 2014
Igloo.com, a leading broker of ultra premium domain names and websites, announced today that Vino.com has been listed exclusively for sale with their firm. Highly marketable and easy to remember, Vino.com provides a blank slate to a new or established company wanting to capitalize on the rapidly growing online wine market. Aside from being both the Spanish and Italian word for wine, the term "Vino" is also commonly used in the English language.
According to the State of the Industry Wine Report released by Silicon Valley Bank earlier this year, there are an average of 1.5 million organic conversations every day about wine across all primary social media channels, 450,000 new people are talking about wine on social media every month and over 80% of these get no response from wine brands leaving room for a savvy marketer to utilize Vino.com to capitalize on these missed opportunities. This, and the fact that direct-to-consumer sales will continue as the largest growth channel for most wineries support the fact that a strong online presence will be key. A universally recognized, marketable keyword domain like Vino.com offers a unique branding opportunity and will only appreciate in value over time affording built-in asset protection on the buyer's upfront investment.
With online ordering of wine products expecting to increase through 2015 at an average annual rate of over 40%, search volume for the term vino can only be expected to grow, resulting in an increase in the value and appeal of this online asset even further. "Domain names like Vino.com have a strong and memorable branding association and offer significant advantages to any business with an online presence in terms of pay-per-click (PPC) keyword advertising and search engine optimization (SEO)," said Tessa Holcomb, CEO of Igloo.com. "It's not often that a domain name of this caliber becomes available for sale, and we are excited about the opportunity to exclusively market Vino.com. There are only a handful of domain names available representing such a large segment of any one market and Vino.com is definitely one of them."
Branding agencies, bloggers and tech companies alike agree that a strong brand can be your most powerful tool, can set you apart from the competition and demonstrates that you are an industry leader. Descriptive, generic domain names have been associated with some of the world's most well-recognized companies including Cars.com, Shoes.com, Baby.com, Toys.com, Hotels.com and Flowers.com, etc. and have historically been the most valuable properties on the Internet. While many of these sales have been private, some public sales considered comparable to Vino.com include Wines.com at $2,900,000, Vodka.com at $3,000,000 and Whiskey.com at $3,100,000. Beer.com sold for $7,000,000 while Pizza.com sold for $2,605,000 and candy.com at $3,000,000.
For additional information or offer guidelines on Vino.com, please contact Igloo directly at +1 508 689 9569, ext. 803 or info(at)igloo(dot)com.
About Igloo.com
Igloo.com assists both businesses and domain owners in the overall planning and execution of their domain strategy. We specialize in domain acquisitions, branding needs, and sales for our clients and help companies stake their claim online, rebrand, or simply acquire descriptive domain names to help set them apart from their competition. With over $100 million in domain and website transactions behind us, Igloo's results oriented team is unparalleled in experience, knowledge and most importantly, results.