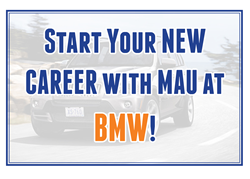 Greenville, SC (PRWEB) June 18, 2014
We are hiring to fill Production Associate positions with MAU at BMW in Greer, SC. As a result, we will have extended hours and be open until 8:00pm at our Greenville Branch on Thursday and Friday of this week and Tuesday, Thursday and Friday of next week. The office is located at 7993 Pelham Road, Greenville, SC 29615.
To apply and schedule your interview please visit http://www.mau.com/bmwjobs.
Following completion of the application, applicants are automatically sent to our instant scheduler where they can select an interview time that's convenient for them.
Production Associate Position Benefits:
$15-$16/hour
BlueCross BlueShield (Major medical, dental, and vision benefits)
60 Hours of Paid Vacation
Up to 13 Paid Holidays
401K & Life Insurance
Visit http://www.mau.com/bmwjobs for more information or to apply.
Please Note: Applicants must submit to a background check and drug screen. HS Diploma or GED required as well as 1 year stable work history.
MAU Extended Hours:
June 19-20, 24, 26-27
Interview times available through 8:00pm
7993 Pelham Road
Greenville, SC 29615
MAU Workforce Solutions staffs excellent, effective people for their partners, allowing them to focus on their core competencies. Headquartered in Augusta, GA since 1973, MAU is a family-owned, minority company making lives better for applicants, clients, and employees through innovative workforce solutions. Today, with Branch and vendor on premise locations across the South and recruiting partners worldwide, MAU has global capabilities to help with all staffing, recruiting, and outsourcing needs.