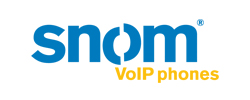 I look forward to broadening snom's global presence and introducing a new generation of innovative products and solutions to the market.
Berlin, Germany (PRWEB) June 18, 2014
snom technology AG, a leading developer IP desktop business phones, today announced that its supervisory board has named Markus Schmitt-Fumian as its new chief executive officer, effective June 1st. Together with COO Dr. Michael Knieling and board member Usman Tahir, Schmitt-Fumian will be responsible for driving innovation and managing growth as snom continues to expand its global footprint in key markets.
"Markus has the business drive and extensive international management experience to further establish snom's position as an innovator and leader in IP telephony, and to lead the company into its next phase of growth," said Christian Friese, head of snom's supervisory board.
Schmitt-Fumian has a well-established track record of results in senior leadership roles at multinational technology companies, delivering innovative communications solutions to the marketplace. Most recently, he was senior vice president of business development and innovation at Gigaset AG, leading developer of DECT phones, where he managed new products, partnerships, alliances and distribution channels. Previously, he spent more than a decade in senior technology, innovation and product design roles at Siemens AG.
"I look forward to broadening snom's global presence and introducing a new generation of innovative products and solutions to the market," said Schmitt-Fumian. "The company has long been at the forefront of IP telephony and has expanded internationally to many of the world's most important markets. My goal is to build on our momentum, delivering products and solutions for businesses of every size to position snom as the clear leader in IP telephony."
About snom
Founded in 1996, snom develops and manufactures VoIP telephones and related equipment based on the IETF open standard, SIP (Session Initiation Protocol). Recognized for its high-quality, customizable and cost-effective business phones, snom is also differentiated by the company's history in the VoIP industry and its dedication to high security standards. All of snom's products are designed to be fully interoperable with leading communications equipment vendors. snom customers and partners benefit from the interoperability and flexibility that snom telephones offer, including plug-and-play integration and universal compatibility with standards-based SIP VoIP platforms, applications or services. In September 2011, the snom 300 and snom 821 became the first and only SIP phones to achieve "Qualified for Microsoft Lync" status – Microsoft's top distinction for fully tested interoperability and compatibility with Microsoft Lync. snom's leadership continues today, based on its six-phone UC edition portfolio – the industry's largest and most extensive family of standards-based business phones qualified for Microsoft Lync enterprise environments.
snom is headquartered in Berlin, Germany, with offices in Italy, France, the United Kingdom, Taiwan and the U.S. that support a global network of channel partners in Europe, the Americas and Asia Pacific. For more information, visit http://www.snom.com.
Media Contacts
North America
John Gates
Elevate Communications
+1 (617) 861-3651
john(at)elevatecom(dot)com
Global
Jason Green
Berlin, Germany
+49-30-39833-106/105
Jason.green(at)snom(dot)com