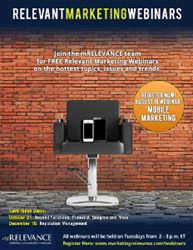 Atlanta, GA (PRWEB) June 25, 2014
Registration is open now for "Mobile Marketing: How to Attract Buyers Using Smart Technology," the fourth webinar in a series of six free webinars from mRELEVANCE, LLC in 2014. "Mobile Marketing: How to Attract Buyers Using Smart Technology" will be presented live on Tuesday, August 19 from 2 to 3 p.m. ET.
Marketing RELEVANCE Managing Partner Mitch Levinson and Mike Adamczyk, Lead Web Developer, will present "Mobile Marketing: How to Attract Buyers Using Smart Technology."
Mobile marketing is one of the areas sales and marketing professionals across the country are focusing on as the next big thing to help increase the bottom line. We are in a "gotta have it/know it/see it/get it now" age. The majority of U.S. consumers own smartphones and are using them to find information quickly and shop. This seminar will teach attendees how to integrate the right technologies into their marketing initiatives. Participants will gain a better understanding of the importance of mobile technology in sales and the must-have features of a mobile site. Attendees will also learn how to incorporate mobile technology into their marketing plans, set up mobile-friendly initiatives, increase qualified traffic and achieve higher conversion ratios.
Relevant Marketing Webinars are free and open to business owners and marketing professionals who are looking to gain knowledge on the hottest topics, issues and trends to enhance their marketing efforts. During each webinar, mRELEVANCE's expert marketing professionals will discuss a different marketing topic to improve the effectiveness of a business' marketing program.
Future webinars will be held on Tuesdays from 2 to 3 p.m. ET. The dates and topics for each webinar are listed below:
1. August 19: Mobile Marketing: How to Attract Buyers Using Smart Technology
2. October 21: Beyond Facebook: Pinterest, Google+ and More
3. December 16: Reputation Management
Mitch Levinson, a 20-year industry veteran, is the author of "Internet Marketing: The Key to Increased New Home Sales." A Multi-Million Dollar Sales Producer who earned an MBA in Computer Information Systems and eCommerce, he brings a unique perspective and experience to the field of real estate communications. Mitch is the current Chair of NAHB's Institute of Residential Marketing's (IRM) Board of Trustees, and is working to enhance the integration of IRM educational programming across NAHB's National Sales and Marketing Council (NSMC) and into NAHB as a whole. He is also currently involved with updating the IRM curriculum and implementing changes to the NSMC's long range strategic plan initiatives. Mitch is an active broker in Illinois and Georgia and an appointed Director of the National Sales and Marketing Council. Mitch also holds the MIRM, CAPS, CGP and CSP designations from NAHB and REALTOR© and ePRO© from NAR.
Mike Adamczyk is a designer and web developer at mRELEVANCE. As an ex-U.S. Marine squad leader, Mike has exceptional attention to detail and knows what it takes to accomplish the mission. As a designer and web developer, he's thoughtful and deliberate about every decision, and he is never satisfied until the client is satisfied. Mike lives and breathes print, web and architectural design. His expertise has been shaped by many years as a carpenter working on North Shore Chicago luxury homes, as well as designing and crafting custom cabinetry and furniture for clients all over the Chicago area. A die-hard student of architecture, Mike occasionally participates in architectural competitions with fellow peers, offering innovative solutions to local and global problems.
Register now for the August 19 Webinar: "Mobile Marketing: How to Attract Buyers Using Smart Technology" at http://www.MarketingRELEVANCE.com/webinars.
The first three webinars, "Location, Location, Location: How to Use Local Search and Review Sites Effectively," "Using Pinterest to Sell Homes" and "Rev Up Your Social Media" are available for download at http://www.MarketingRELEVANCE.com/webinars.
About Marketing RELEVANCE: mRELEVANCE, LLC creates relevant marketing and communications that reach audiences with focused and strategic messages. Through technology and creative content, messages are delivered to target markets to encourage customer action and interaction.
With offices in Atlanta and Chicago, mRELEVANCE can connect your company with buyers and build relevant relationships nationwide. For more information, visit http://www.MarketingRELEVANCE.com, Like us on Facebook at http://www.Facebook.com/mRELEVANCE, Follow us on Twitter at @mRELEVANCE or call 770-383-3360 or 847-259-7312.