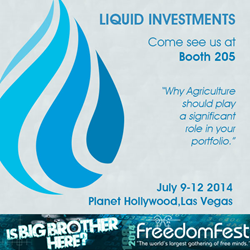 London, United Kingdom (PRWEB UK) 20 June 2014
Visit Booth 205, where the lucky winner will have a rare opportunity to go to Brazil, with Liquid. Visit the plantations and see first hand the transformations that have taken place. There will also be ample time to enjoy the beautiful coastal setting in the balmy northeast of the country.
Get Your VIP Entry To Our Exclusive Dinner
Wayne P. Kurtz, Liquid's Chief Commercial Officer, will be hosting a private VIP dinner, where he will talk on "Investing into Mankind's Primal Need – Diversifying into Agriculture to Safeguard and Build Wealth", on the 11th at 7pm in The London Club.
Wayne will address the following areas:

Why the time is right to consider agriculture as an asset class
Food as a primal need to mankind and how the desire to feed oneself is greater than any other
Food demand is being driven by rapidly growing populations, as well as the attractive supply-demand dynamics
The importance of diversifying into agriculture, with real bond yields falling and equity markets being overvalued
To attend the dinner you'll need a VIP invite from one of Liquid's investment consultants who will be at Booth 205, from Thursday 10th – Saturday 12th July.
Wayne P. Kurtz, will also be presenting on "Why are we so excited about agriculture?" at our breakout session, on Friday 11th July at 9am in room Sunset 3&4.
Visit Liquid Investments at Booth 205 to reserve your place at our breakout session. Plus, come and find out about Liquid's Annual Plantation Tour & Investment Conference in September – where Jim Rogers is the guest speaker. Liquid are also giving away complimentary Investment reports on the stand.
For more information about Liquid, visit liquid-investments.com or contact them.