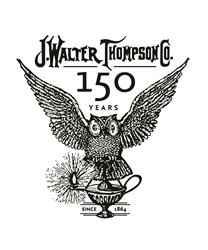 As the industry's oldest global agency with a history of pioneering achievements, we are in the position as influencers to change the paradigm when it comes to diversity and women in the industry.
Cannes, France (PRWEB) June 19, 2014
JWT Worldwide announced today a pioneering international scholarship to assist and promote talented female creative advertising students. Named after both the industry's and JWT's first female copywriter, Helen Lansdowne Resor, the scholarship is a centerpiece of the agency's 150th anniversary.
To officially announce the scholarship and celebrate Helen Lansdowne Resor's maverick legacy, JWT, along with The New York Times, hosted a thought-provoking panel at the Cannes Lions International Festival of Creativity exploring the lack of female creative leadership in the industry.
"As the industry's oldest global agency with a history of pioneering achievements, we are in the position as influencers to change the paradigm when it comes to diversity and women in the industry," said JWT Worldwide Chairman and CEO Bob Jeffrey. "We are thrilled to offer this first-of-its-kind scholarship designed to cultivate a network of support for aspiring female creative ad students."
The panel featured moderator Meredith Kopit Levien – EVP Advertising, The New York Times, and panelists: Valerie Cheng – CCO, JWT Singapore; Polly Chu – CCO, JWT Beijing; Malena Cutuli – GM, Brand and Communications, Shell; Maureen Dowd – Op-Ed Columnist, The New York Times; Kat Gordon – Founder, 3% Conference; Danielle Mattoon – Culture Editor, The New York Times; Dee Salomon – CMO, MediaLink; Betsy Spence – VP Integrated Marketing, Macy's; and Amal el Masri – CEO, JWT Egypt.
Amidst the male-dominated sector of advertising, The (HLR) Scholarship from JWT aims to support young, diverse women from around the world who aspire to join the creative ranks. The scholarship hopes to break down the global industry's major challenge, where women comprise just 3% of the creative leadership.
The HLR Scholarship will award five individual $10,000 annual scholarships for a five-year program. Additionally, HLR Scholarship recipients will receive a paid summer internship between their junior and senior year at a JWT office in their respective region, a JWT mentor and a "first look" placement consideration upon graduation. Initially, the scholarship will open to applicants in China, India, the Middle East and North America.
"Helen was a true pioneer who pushed boundaries for JWT, the industry and women as a whole. The global industry still has many pressing needs for gender equality improvement. I am honored to be part of this global initiative," said Valerie Cheng, Chief Creative Officer, JWT Singapore.
Helen Lansdowne Resor began her pioneering half century-long career with JWT in 1911 and quickly became a guidepost to female creatives of her generation as a champion for the advancement of women's rights both inside and outside of the agency. During her tenure, JWT was known as the "Women's Agency," where bright young female talents had a chance to succeed. As a brilliant creative, working mother and icon in advancing women's rights, she overcame significant cultural barriers as a true pioneer. She is also credited with the industry's most innovative historical advertising—she became the first to introduce sex appeal in advertising with iconic campaigns like Woodbury Soap's "A skin you love to touch," and sparked the celebrity testimonial industry through the use of endorsements from socialites, European royalty and other well-known women in her work for Pond's Cold Cream.
"JWT was known as the 'Women's Advertising Agency' under Helen's tenure. While we are proud of our existing female talent, we know we also need to be working harder to identify, train, develop and mentor the next generation of female creative leaders. This is a goal we are very passionate about, and we hope the rest of the industry will take note and do the same," said Gustavo Martinez, Global President, JWT Worldwide.
ABOUT JWT
JWT is the world's best-known marketing communications brand that has been inventing pioneering ideas for the past 150 years. Headquartered in New York, JWT is a true global network with more than 200 offices in over 90 countries, employing nearly 10,000 marketing professionals. JWT consistently ranks among the top agency networks in the world and continues a dominant presence in the industry by staying on the leading edge—from producing the first-ever TV commercial in 1939 to developing award-winning branded content today. For more information, please visit http://www.jwt.com and follow us @JWT_Worldwide.