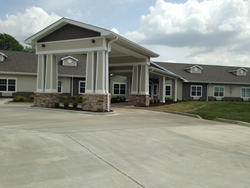 "The only way to see the passion for caring is to come and experience it and meet the people and see the environment," said Jennings.
Edwardsville, IL (PRWEB) June 23, 2014
Cedarhurst of Edwardsville, a locally owned and operated provider of memory care solutions will hold a grand opening celebration on June 26, from 4 P.M. to 7 P.M. to showcase the new community and provide tours focused on demonstrating how Cedarhurst provides memory care services to seniors and their families.
The facility is a 33,000-square-foot, single-story building with 54 memory care apartments that are divided into four neighborhoods. Each neighborhood is focused on delivering outstanding care and includes dining, living and kitchen areas.
The building is constructed give residents to supervised opportunities to explore the community, Cedarhurst of Edwardsville was built with a loop so residents can walk continuously throughout the community. There are no long corridors and the building design allows for visual observation of each of the community's 54 apartment doors, so Cedarhurst staff can monitor the environment 24/7.
The grand opening celebration will kick off with a ribbon cutting at 4pm, with participation from the Edwardsville-Glen Carbon Chamber of Commerce, followed by a presentation from the Alzheimer's Association. A plaque will be presented to Cedarhurst of Edwardsville in recognition of completing its person-centered dementia care certification program.
To date, all staff at Cedarhurst of Edwardsville have gone through the Alzheimer's Association Person Centered Care Training and are dementia care certified.
The Alzheimer's Association dementia care training is an onsite, face-to-face, 12 hour course, which addresses different kinds of dementias and focuses on how to treat people suffering from these conditions.
"The community's ownership, led by Joshua Jennings, plans for regular dementia training every year, because there is always new staff and the research on caregiving is evolving quickly in the Alzheimer's field. The process of maintaining excellence in care capabilities requires ongoing investment but we are excited about the opportunity to develop increasingly strong dementia care skills on an ongoing basis," said Anne Reynolds, executive director at Cedarhurst of Edwardsville.
During the grand opening celebration, the senior living community will be open for tours, including demonstration of the featured therapy kitchens. There is one located in each of the four neighborhoods within the community. The demonstrator will explain how the kitchens are used to help residents. Tours will take place in a neighborhood where there are no residents, keeping in mind the unique needs of people with dementia.
Anne Reynolds, executive director at Cedarhurst of Edwardsville, explained the importance of keeping the celebration in an area where there are currently no residents.
"All of the people coming and going during the grand opening will be engaging in tours located in a neighborhood where there aren't residents living," said Reynolds.
During the tours, hors d'oeuvres will be served and live music as well as a full bar will be set up for visitors to enjoy as they walk through the community.
"This community is so different than what anybody has seen before. This is a community that is designed specifically for memory care. I really hope what will happen is that when people come and see who will be caring for their loved one and hear our philosophy on person-centered care, it will make us stand out. We are the experts," said Reynolds.
Jennings talked about the importance of the physical environment to the care of residents at Cedarhurst. Equally important, he explained, are the caregivers who help to create moments of joy for the residents.
"We are excited about the grand opening. We have created a very positive environment and have focused on developing a physical space to facilitate outstanding care for the residents, but the secret ingredient is the actual care aspect. We are very excited for people to come in and meet the care staff. The only way to see the passion (for caregiving) is to come and experience it and meet the people and see the environment," said Jennings.
Invitations to the grand opening were extended to area healthcare agencies, other assisted living facilities, local nursing homes, people who had previously contacted Cedarhurst with interest in residency and the general public.
The city of Edwardsville is a community with a large senior population. With Edwardsville located in the center of the county and the county seat, it draws on a large population area. The larger the population of seniors living in an area, the greater the need for adequate senior housing.
Jennings recognized there were a number of assisted living and independent living facilities for seniors in Edwardsville, but none were appropriately designed to meet the unique needs of seniors with Alzheimer's Disease and other dementias.
It was this deficit that prompted Jennings to come up with a unique senior living solution, one that would sufficiently meet the needs of families and their loved ones.
The result? Cedarhurst of Edwardsville.
"Historically, if your loved one needed memory care you would have to go to a nursing home or leave the community. So, we basically provided a residential option for this demographic." said Jennings.
The new development offers a carefully designed program of person-centered, memory care solutions serving people with Alzheimer's disease, dementia and other memory loss impairments.
"Cedarhurst of Edwardsville is a great community project. It came together through working with the city, county and the local labor unions to make this project a success. Without the community involvement, it would have been difficult if not impossible to get this project done," said Jennings.
According to Jennings, financing was provided by the Carpenter's Pension Fund.
Cedarhurst of Edwardsville is operated by Provision Living, LLC.
Based in St. Louis, Provision Living LLC owns and operates a family of assisted living and memory care communities across nine states, representing more than 1,750 units and 1100 associates.
Provision Living is a premier regional operator and investor in senior housing properties, specifically focusing on independent living, assisted living, and assisted living-based dementia services.