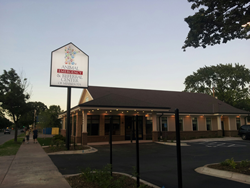 Oakdale, MN (PRWEB) June 18, 2014
Animal Emergency & Referral Center of Minnesota (AERC) is very excited to announce that their location in St. Paul at 1542 W. 7th Street will be open to take emergency cases 24 hours a day, seven days a week starting August 1.
The St. Paul location of AERC has been open since June 2012, exclusively on nights, weekends and holidays, but both the surrounding veterinary community and pet owners have been requesting the change to 24/7 availability for some time.
"It's a natural change for us," says AERC Hospital Director Dr. Karen Reynhout. "Our Oakdale facility has been open 24/7 since 2009, and it's a service that, increasingly, pet owners and vets want. This way, critically ill and injured pets don't have to be transferred to another facility at closing time, and care can be continuous according to the pet owner's wishes. In addition, we can be available for any emergencies that a general practice cannot fit into their appointment schedule. We're really excited about the change."
The clinic also has referral services for pets that need them. "Pet owners are largely unaware that, just as a human patient would see a cardiologist in the event of a heart problem, pets can see specialists for advanced care," says medical director Dr. Steve Shadwick, a board-certified internist. "Veterinary specialists undergo an additional three to four years of training after veterinary school, as well as qualifying for and passing a rigorous examination."
AERC offers a diverse group of specialists who are equipped to offer services unlike any other private referral hospital in the state; specialists in critical care, internal medicine, surgery, cardiology, dentistry and dermatology are available to the clinic's emergency vets 24/7 for consultations.
AERC began as an emergency practice and has expanded into the only locally-owned referral center in the Twin Cities. Having both of their locations available 24/7 for emergencies provides a great resource for both the veterinary community and pet owners.
<br>About the company:<br>Animal Emergency & Referral Center of Minnesota (AERC) started out with one clinic, one veterinarian, and one technician. Today, they employ a wide variety of doctors and health care team members – all specially trained in emergency and critical care--in addition to a growing referral practice for when pets just aren't feeling like themselves. For more information, please visit their website at http://aercmn.com.