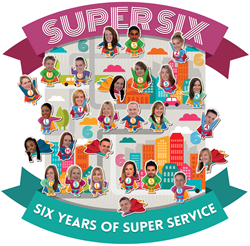 The company got off to a flying start from the outset, and had grown every year.
(PRWEB UK) 24 June 2014
The Fuelcard People, a Fuel Card Group company, has celebrated six years of success and growth. From its Wantage headquarters, it helps to refuel hundreds of thousands of vehicles at below pump prices. Donal Murphy is managing director of DCC Energy, its parent group. He pointed out that the company got off to a flying start from the outset, and had grown every year and said, "Many thanks to all the team for all your hard work, dedication and excellent performance over the last six years. Don't the years just fly by!"
Steve Clarke, now group marketing manager, set up The Fuelcard People and was its first general manager. He agreed with Donal Murphy and said, "It seems like only yesterday that we were recruiting our first people and the whole team could fit into a small room. Now, with those original 2008 colleagues still part of the family, we have expanded across three floors in two separate buildings."
The Fuelcard People is not yet the UK's largest fuel card supplier, but is certainly the best known. Steve Clarke knows why it enjoys continuing success. "We treat each customer as an individual, ensuring that its fuel card choice delivers an unbeatable combination of service, savings and security. We do not operate call centres and give everyone, regardless of size, a dedicated account manager. Finally, we remember that the whole point of fuel cards is to save money, so we keep prices down with no hidden transaction charges."
The Fuelcard People offers an unbeatable range of fuel cards that covers every major fuel brand, independents, supermarket forecourts and motorway service stations. Wherever a customer buys diesel or petrol, across a nationwide network of thousands of sites, they can expect to save up to 4p per litre on the national average pump price, up to 10p on motorway refuelling. Unlike other fuel card companies, it does not impose a £2 surcharge on each transaction.
The Fuelcard People helps organisations with every possible size and type of fleet, from a single small van to thousands of mixed vehicles. From its beginnings as a customer-friendly, cost-effective fuel card supplier, it now also provides emissions monitoring, mileage recording and a wide range of fleet management services.
"The clue is in our name," said Steve Clarke. "We believe that customers prefer to deal with real people, not a faceless monolith, and like to be treated as individuals. By listening to people, then providing exactly the cost-effective refuelling or other services that they need, we have enjoyed consistent growth even through the recession. We give people what want, it works, and we have no reason to change. We all look forward to the next six years."
Meet all our Super Heroes here.