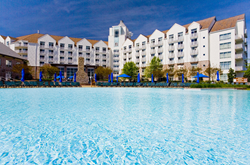 'Midweek is the best time to visit during the summer,' said General Manger Ted Kanatas. 'Guests enjoy great rates and all the amenities Hyatt Regency Chesapeake Bay has to offer without the bustle of the weekend crowds.'
Cambridge, MD (PRWEB) June 19, 2014
For travelers scouting out seafood, boating and other bayside pleasures this summer, Hyatt Regency Chesapeake Bay Golf Resort, Spa and Marina's new Chesapeake Experience package is the ultimate catch for a midweek getaway.
With this first ever all-inclusive package, vacationers can take advantage of the Eastern Shore resort's four-diamond accommodations and bounteous opportunities for recreation and relaxation, while also enjoying an array of superb dining options for no additional charge. From a sweet and savory brunch at Water's Edge Grill; to a poolside lunch at Dock's or golf break at Eagle's Nest Bar & Grill; followed by dinner at Bluepoint Provision Company and a late night nosh at Michener's Lounge; guests can appreciate fresh seasonal fare and locally sourced seafood specialties at the Eastern Shore resort's five family friendly dining venues.
Among the Chesapeake Experience package's other perks, guests will receive a special welcome gift that includes s'mores for fireside roasting, complimentary valet parking, and passes to explore The Blackwater National Wildlife Refuge. Plus, complimentary seasonal activities, which include indoor and outdoor swimming pools, tennis, miniature golf, disc golf, volleyball, shell-lined jogging trails, strolls through the resort's own private wildlife refuge Blue Heron Rookery, a beach, 'dive in' movies, and state-of-the-art fitness center.
"Midweek is the best time to visit during the summer," said General Manger Ted Kanatas. "Guests enjoy great rates and all the amenities Hyatt Regency Chesapeake Bay has to offer without the bustle of the weekend crowds."
Throughout the summer the luxury resort hosts numerous special events, from Thursday night deck parties at Bluepoint Provision Company, to hot dog and pie eating contests. Guests won't want to miss the Fifth Annual Crab Week, August 15-29, featuring crab feasts and crustacean-themed activities like cooking with crabs, wine & crab pairings, crab coloring contests and more.
During those carefree summer days, guests can indulge in world-class Sago Spa's seasonal menu of Eastern Shore-inspired treatments and services; go crabbing and fishing at River Marsh Marina; and enjoy tee time at River Marsh Golf Club's championship 18-hole course in view of the majestic Choptank River.
The Chesapeake Experience all-inclusive package, which starts at $479 per room per night, covers room accommodations, resort fee, tax, meals, non-alcoholic beverages, welcome gift, valet parking and Blackwater Wildlife Refuge passes. The Chesapeake Experience package is available through December 30, 2014, and is based on double occupancy and subject to availability. Cost for each additional person is $79. Reservations must be made in advance. To book this package, please call 800.633.7313 or visit Chesapeakebay.hyatt.com.
Hyatt Regency Chesapeake Bay Golf Resort, Spa and Marina
The Hyatt Regency Chesapeake Bay Golf Resort, Spa and Marina is the premier four-diamond resort of the Chesapeake Bay. The property is nestled on 342 magnificent acres along the Choptank River, and features 400 luxurious rooms and suites. Among amenities are six superb dining options; an award-winning, 18-hole championship golf course; the 150-slip River Marsh Marina; the Sago Salon & Spa; multi-level indoor and outdoor swimming pools; a fitness facility, and a children's recreation center. For more information on the Hyatt Regency Chesapeake bay, please call (800) 633-7313 or visit chesapeakebay.hyatt.com. Follow Hyatt Chesapeake Bay on Facebook at facebook.com/hyattchesapeake; Twitter @hyattchesapeake; or Instagram #HyattChesapeake.
About Hyatt Regency
Hyatt Regency encompasses the full spectrum of hotel types, which are conveniently located in urban, suburban, airport, convention and resort destinations around the world. Properties range in size from 200 to more than 2,000 rooms, feature intimate and large meeting spaces, and offer a full range of services and dining options tailored to serve the needs of conventions, business travelers or resort vacationers. Hyatt Regency enables all guests – whether they are traveling to work, unwind or gather in celebration – to feel productive and revitalized. For more information and reservations, visit hyatt.com