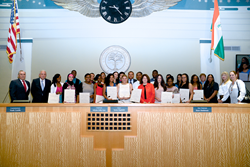 Miami, FL (PRWEB) June 20, 2014
The Miami Bayside Foundation awarded college scholarships to twenty-six high school seniors from City of Miami Public Schools. The twenty-six students were honored at Miami City Hall by City of Miami Mayor Tomas Regalado and city commissioners; parents and Miami Bayside Foundation board members were also present. This is the inaugural year of a multi-year scholarship program commitment made by Miami Bayside Foundation to the City of Miami Public School System. Miami Bayside Foundation scholarship programs have given students the opportunity to access resources that were not previously available to them. With the awarding of these twenty-six scholarships, the Miami Bayside Foundation continues to demonstrate its commitment to providing educational opportunities to future business leaders and entrepreneurs in the City of Miami.
The Miami Bayside Foundation, a City of Miami-based nonprofit established in 1986, has created and administers two loan programs for City of Miami minority businesses, funds scholarship endowments and gifts programs for City of Miami minorities studying entrepreneurship and business, and provides technical assistance to minority businesses in the City of Miami. The Foundation has awarded 353 scholarships to City of Miami minority students attending Miami Dade College, Florida International University and Florida Memorial University; it has also awarded twenty-five loans creating more than 100 jobs in the City of Miami, and has created partnerships that have helped train more than 100 City of Miami minority business owners.
For more information on the Miami Bayside Foundation, please call (305) 379-7070, email info(at)miamibaysidefoundation(dot)org or visit http://www.miamibaysidefoundation.org.