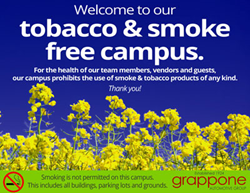 This is another initiative by The Grappone Automotive Group to promote a healthier environment for our team, guests and vendors.
Bow, New Hampshire (PRWEB) June 23, 2014
The Grappone Automotive Group is pleased to announce that it will be a smoke and tobacco free campus as of July 1st, 2014. "The main reason behind this decision is to promote a healthier environment for our team members, vendors and guests," said Amanda Grappone Osmer, fourth generation owner of the 90-year- old company.
The campus of Grappone Automotive Group will be thoroughly marked with signs letting guests, team members and vendors know they are now a smoke-free campus. During the transition into a smoke-free and tobacco-free environment, Grappone Automotive Group offered assistance to their team members to help them quit smoking before the July 1st transition.
Other healthy initiatives that Grappone Automotive Group has put into effect within the past few years are:

An on-site fitness center with small hand held weights and bench, treadmill, stationary bike and elliptical machine.
Replacement of traditional vending machine options with Healthy Snack vending alternatives.
Johnson's Golden Harvest Farmers' Market sets up a fresh fruits and vegetables stand at their Toyota facility every other week.
A dock was installed on the Turkey River behind the Toyota store for easy access to paddling on the Merrimack. Many team members enjoy Boat to Work days throughout the summer.
Additionally, Grappone has two programs in place that encourage and support healthy decision making. A Health and Wellness Program reimburses team members for expenses related to exercise and fitness classes as well as equipment. A "Joy of Fitness" program is a year round exercise tracking program which encourages team members to exercise daily and track their amount of time spent exercising.
"Healthier work environments are better for everyone involved for multiple reasons," said Grappone. "First, they help people develop an awareness of the importance of good nutrition and exercise and its effects on the body and mind. Second, they reduce the frequency, duration and severity of illness in the workplace. Third, they promote a supportive environment as people work together to improve their health and encourage their co-workers. Finally, they increase productivity."
Grappone Automotive Group is a fourth generation family owned business that is located in Concord, New Hampshire. The Grappone Automotive Group's campus spreads across 30 acres, and encompasses five dealerships, as well as a wholesale/used car department and a collision center. With more than 325 team members they are the largest family-owned automotive dealer in the state of New Hampshire. For more information, please visit http://www.grappone.com.