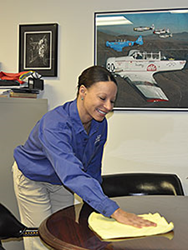 It's important that employers are working with the right contractors to best manage the hazards pollens and hay fever cause.
Columbus, OH (PRWEB) June 18, 2014
We are in the throes of allergy season. Summer is the time we open our windows, let in the fresh air, and reboot on energy. Unfortunately, with the fresh air, pollen and other allergens enter into the office and can play a significant role on the health of your employees. Millions of Americans are affected by seasonal allergies, which is often a cause for increased absenteeism and lower productivity.
Hay fever, weed and grass pollens can cause severe allergies resulting in chronic inflammation, chronic congestion, and, in many cases, fatigue. According to WebMd, 4 million workdays are lost each year as a result of hay fever.
JanPro of Columbus President, Rick Wolverton advises, "Summer-time allergens accumulate quickly. We let them in through the windows and doorways. We bring them in on our clothing. They're all around us. Once they come in, they accumulate into the fibers of carpeting and upholstery, on equipment, and workspaces. While we can't control allergens outside of the office, we can control their impact on employees while they are working."
He adds, "It's important that employers are working with the right cleaning contractors to best manage the hazards pollens and hay fever cause. It takes the right equipment and thorough and consistent cleaning to properly manage irritants commonly found throughout the workplace."
JanPro of Columbus offers a checklist of services and technology required to perform thorough cleaning to reduce allergy suffering in the office:
Hospital strength disinfectants for broad-spectrum coverage
While summer allergies are not caused by bacteria, a contractor should be using the strongest, safest disinfectants to minimize exposure to any airborne contaminants throughout the year. Allergies do, however, bring coughing, sneezing, and runny noses. Appropriate disinfectants will eliminate the germs that are spread throughout the office.
Commercial-strength backpack vacuums
JanPro of Columbus prides itself on utilizing the most advanced technology available for commercial cleaning. Their backpack vacuums have four filters and ratings that exceed Hepa standards for cleaning air. JanPro advises that backpack vacuums are more agile and cover significantly more area than an upright vacuum. They reach spots like blinds and vents, which carry a lot of accumulated allergens.
Use of Microfiber cloths
Microfiber clothes are designed to trap dirt and hold it in a positively charged state for more effective cleaning. Your contractor should be using these to quickly and efficiently eliminate dust and pollen from all surfaces in the office. They should also be color-coded to ensure that cleaning staff isn't cross-contaminating debris from bathrooms with office-space equipment.
Green Cleaning
It is extremely important that your cleaning company use cleaning products are butyl free and low in VOCs. While the chemicals cover a greater area and use less product, they are also safer for your staff, further reducing the risk of allergic reactions.
More on JanPro of Columbus
JanPro of Columbus offers commercial cleaning services throughout the Columbus, Ohio area. Through the JanPro Process®, they provide the highest quality, most up-to-date, professional commercial cleaning service at the best possible price. For more information on JanPro services or guidance on appropriate cleaning for commercial facilities, call JanPro of Columbus at 614-569-3270 or you can visit them online at http://cleaningcolumbusohio.com/