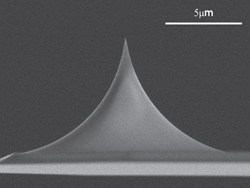 Neuchâtel, Switzerland (PRWEB) June 23, 2014
NANOSENSORS™ announced that a screencast explaining the properties of a completely new SPM (Scanning Probe Microscopy) probe series dedicated for use in biological and life science applications has been uploaded on its website and YouTube channel.
A spoken Chinese version of the screencast has also been made available: https://www.youtube.com/watch?v=Kd9DEqI0vmQ .
The main advantages of the uniqprobe AFM tips are the unsurpassed uniformity of cantilever force constant and resonance frequency range, and a special drift reducing coating that is particularly useful for measurements in liquid environments.
The NANOSENSORS uniqprobe combines the well-known features of the other NANOSENSORS AFM probe series such as high application versatility and compatibility with most commercial SPMs, with absolutely straight and stress-free cantilevers, even if they are made very long, thin, and soft to fulfill the demands of biological applications.
For further information, please refer to the new videos.
About NANOSENSORS™:
NANOSENSORS™ is specializing in the development and production of innovative high quality probes for scanning probe microscopy (SPM) and atomic force microscopy (AFM). The products are especially designed for scientists at universities, research institutions, and industrial R&D centers in the fields of nanotechnology, microtechnology, materials research, semiconductors, biology, biotechnology, chemistry, and medicine. NANOSENSORS™ is a trademark of NanoWorld AG.