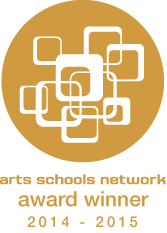 Key West, FL (PRWEB) June 20, 2014
Arts Schools Network's 2014-2015 Award Winners honor ASN member schools and individuals, as well as their communities, for their commitment to and demonstration of excellence in arts education.
The Arts Innovation Award goes to the Idaho Arts Charter School and its Electric Rock Orchestra in Nampa, ID, for "breaking the mold" in using arts in teaching academics, and for making a positive difference in the students' lives and their community.
Kinsella Magnet School of Performing Arts in Hartford, CT, and Wiley H. Bates Middle School in Annapolis, MD, have won the Arts Integration Award for their exceptional strategies and accomplishments in creating curriculums that incorporate the arts with academic subjects.
Abbotsford School of Integrated Arts, Sumas Mountain Campus in Abbotsford, British Columbia, Canada, will receive the Community Partnership Award for fostering community mindedness, artistic and educational understanding and enhancing its community.
Lauren Lim Jackson, Commercial Dance Conservatory Class of 2003, Orange County School of the Arts in Santa Ana, CA, has won this year's Outstanding Arts School Alumni Achievement Award for fostering artistic and academic achievement in talented young people and her outstanding accomplishments in citizenship, arts, and academics.
Greater Hartford Academy for the Arts in Hartford, CT receives the Outstanding Arts School Award, presented for outstanding overall excellence in faculty and student achievements, community recognition and involvement, arts and academics integration, curriculum innovations, continuing growth and development, and state and national recognition.
The Research Initiative Award - Individual honors a person who has completed important research that furthers the goals of arts education. This year's winner is Arnold Aprill, Principal Investigator for the new Radical Compliance Arts and Learning Laboratory, and Founder and former Lead Consultant for the Chicago Arts Partnerships in Education (CAPE).
The Research Initiative - Institution/Organization/Corporation Award goes to The Curb Center for Art, Enterprise and Public Policy and its Associate Director, Dr. Steven J. Tepper at Vanderbuilt University in Nashville, TN. The award recognizes Dr. Tepper and The Curb Center for ongoing research and dissemination of knowledge in arts education that foster the goals of the Arts Schools Network and arts education.
Suzanne Dionne, Visual Arts Teacher, Rotella Interdistrict Magnet School in Waterbury, CT is ASN's Teacher of the Year for her outstanding dedication, talents, and achievements in giving her students an excellent arts education.
The recipient of the Dr. Denise Davis-Cotton Emerging Leader Award is Emily Coalson Stamets, founder of Stamets Education Innovation and The Carol School in Anaheim, CA. This award recognizes excellence and achievement in rising arts schools administrators and highlights their educational innovation practices or programs.
Edwin S. Richards Elementary School, in Mission, British Columbia, Canada receives this year's New and Emerging School Award. Designed to recognize schools that exemplify solid planning and well-defined goals, this award is given to a new school that demonstrates promise as an emerging school of excellence.
About Arts Schools Network
Dedicated to excellence and leadership in arts education, Arts Schools Network is a dynamic resource for arts schools leaders, innovative partners, and members of arts education institutions. Its mission is to provide leaders in arts schools with quality resources, support, and networking opportunities. This international non-profit organization has provided communications, programs, services, and events to support its goals for more than 30 years. Visit http://www.artsschoolsnetwork.org to learn more.