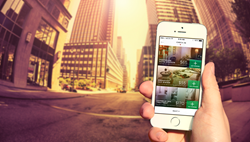 With mobile as an increasingly popular point of acquisition and engagement GuestDriven enables a frictionless experience at every stage of travel — before, during, and after stay.
Montreal, Quebec (PRWEB) June 19, 2014
GuestDriven, the leading hospitality mobile solution provider that enables hotel brands to personalize their customer experience through its Mobile Guest Engagement platform, announced today the release of the latest version of their mobile solution. New additions to the popular mobile solution include a newly redesigned interface, commission-free booking, and express check-in and check-out features.
Now available at more than 115 properties worldwide, the newly redesigned GuestDriven platform represents a significant advancement in the way that hotels are able to interact with, and market to, both their future and current guests.
With mobile as an increasingly popular point of acquisition and engagement GuestDriven enables a frictionless experience at every stage of travel — before, during, and after stay. Mobile engagement via the GuestDriven platform opens the door to allow hotels to create unforgettably personalized guest experiences and highly targeted marketing campaigns.
New to this version are:
Commission-Free Booking
GuestDriven integrates with hotels' existing booking engines in order to allow them to offer their guests the opportunity to book a stay from within the mobile app. No extra charges are levied for this feature, and hotels are able to extend their online footprint into the mobile arena.
Pre-Arrival Check-In
Allow guests to check in before they arrive. When they do so, the hotel is given advance information about the guest that can then be used to present Pre-Arrival Upgrades, special offers (upsells), and to provide an elevated level of Surprise & Delight.
Express Check-Out
Now guests are able to request a late check-out directly from their mobile device. This also allows hotels to begin offering further upsell items to their guests, creating strong relationships that translate into re-acquisition and long-term engagement.
Smart Campaigns
As the platform gathers data on guest behaviors, preferences, and social media profile information, GuestDriven is able to present Smart Campaigns that reach highly targeted audiences with the offers that are most likely to be of interest to them. Driven by actionable data, Smart Campaigns make marketing easy and effective.
Marketing Dashboard
The Marketing Dashboard contains invaluable information on guests, allowing hotels to market to them at a higher level. Accessible from anywhere via a cloud-based SaaS platform, hoteliers have the ability to view insights on their guests, and leverage that information to market to them based on their preferences and behaviors.
1:1 Messaging
Hotels can communicate on-on-one with their guests at any time and respond to requests, concerns, or comments through an easy-to-use cloud-based interface that can be accessed by the hotel via desktop, tablet, or smartphone. In addition, Push notifications within the app allow hotels to send direct communication to users that are opened at a much higher rate than email or SMS.
Dynamic Content Enablement
GuestDriven provides hotels with a CMS that allows them to add, edit, and revise content as they see fit. A simple interface allows hoteliers to configure their content as they need it, ensuring that content on the mobile app is always fresh, and never out of date.
New Carousel Design
Designed with the user in mind, GuestDriven has created an immersive mobile experience that is simple to use, and allows users to discover the hotel's services with ease. Hotels are able to present their entire compendium, and allow guests to interact, and enjoy their entire experience with the hotel.
Next Generation Sensor Support
With major advancements in sensor technology, GuestDriven is looking to the future with smart sensors. Giving hotels another layer of targeted marketing, smart sensors are the next generation of guest engagement.
To get a demo of GuestDriven with these features and many more, please visit http://www.guestdriven.com and fill out a contact request.
In addition, GuestDriven will be present at HITEC® LA from June 24-26 at Booth #1750. To book a demo while at the conference, please visit http://www.guestdriven.com.
About GuestDriven
GuestDriven is a Mobile Guest Engagement platform that enables hotels to interact directly with guests via their mobile devices. Valuable marketing data, including guest preferences and behaviors, is passed to hoteliers, which can be leveraged to elevate guest experience and increase revenues by offering personalized perks, promotions, and rewards.
An integrated suite of specialized tools for targeting, campaigning, and interacting with guests at every stage of travel assists hospitality brands in enablement of customer advocacy, allowing hotels to reward loyalty in real-time.
Founded in 2010 and headquartered in Montreal, Canada, GuestDriven has implementations in over 60 cities and more than 115 properties.