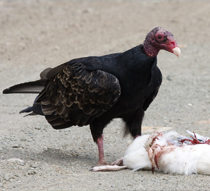 Turkey vultures are some of the most difficult birds we deal with.
(PRWEB) June 19, 2014
Reported on June 12 by Fremont Tribune, Fremont Municipal Airport in Nebraska, USA is currently experiencing a problem with turkey vultures. Bird-X, Inc., bird control experts for 50 years, explain a little more about these birds' peculiar habits.
According to the report, dozens of these large birds gather at the airport. "There's times you'll see 20 or 30 out there," reported Fixed Base Operator Jim Kjeldgaard. He reports there have been no aircraft incidents; however bird strikes are of concern due to the large size of the birds.
Turkey vultures can have wingspans of up to 6 feet and can weigh up to 5.1 pounds. Compared to Canada Geese, which are of similar physical size but can weigh up to 20 pounds, vultures may seem like less of a concern to aircrafts. However even smaller birds such as ducks and pigeons can cause serious damage to a plane in flight.
Of greater concern is the difficulty to get rid of turkey vultures.
"Turkey vultures are some of the most difficult birds we deal with," stated Tom Olmsted, National Account Manager at Bird-X, Inc. "They are extremely stubborn and resistant to regular bird control methods, and often require more serious measures than other birds."
"They sit in the short grass," the report states Wildlife Specialist Scot Rosendahl of the U.S. Department of Agriculture stated. "There are some pilings in the middle that they roost on, that gets them out of the grass and lets them warm up in the morning. And then they catch the thermals coming off the airport and go up. We'll be taking care of that real shortly."
Turkey vultures are known for damaging surfaces, such as roof tops and cars, with their sharp talons and unusually large waste droppings. They roost in dead trees, on telephone poles, towers, and fence posts. They prefer large open areas such as fields, countrysides, roadsides, and any place with readily available food sources. They primarily eat carrion. Despite the fact they are commonly seen alone during the day, they are extremely communal birds, and have complex social structures. It is not uncommon for them to roost in groups of hundreds.
Turkey vultures are protected under the United States Migratory Bird Treaty Act and may not be harmed. Humane solutions are, however, permitted for their removal from unwanted areas.
To find out more about Bird-X's airport bird and pest control studies, click here.
Bird-X, Inc. is the leading brand of humane pest bird control worldwide since 1964, and is dedicated to protecting human health, wildlife and the environment in which we all live. The Chicago-based company manufactures a complete line of unique pest control products with an unmatched focus on quality, efficacy, and customer service.