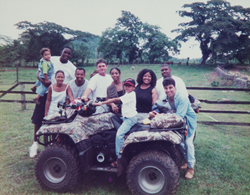 Cassava can have a significant economic impact in replacing imported wheat through the saving of much needed foreign exchange.
(PRWEB) June 20, 2014
Executive Chairman of Cool Group of Companies, Joe Issa, says Cassava flour has the potential to replace imported wheat flour in Jamaica's baking industry, thus saving much needed foreign exchange, creating business opportunities for investors, developing farming communities and providing employment, but urged all stake holders to collaborate to ensure its realization.
Issa made the statement as the heads of Caribbean agricultural agencies, including CARDI, the Inter-American Institute for Corporation in Agriculture (IICA) and Food and Agriculture Organization (FAO) meet in Suriname.
"This project to replace imported wheat with cassava in huge; we are talking about saving massive amounts of foreign exchange, creating a large amount of employment, developing farming communities, introducing new processing technology, offering opportunities for investment and research and development in new value added products to replace imported ones, contributing to the country's much-illusive economic growth and alleviating poverty and improving health standards.
"It would be a miss-opportunity if the issue does not make the agenda of the Surinam meeting, especially as it is topical in Jamaica and other CARICOM countries, with industry players taking to the electronic media to express their approval or concerns," says Executive Chairman of Cool Group, Joe Issa, arguing that it is timely for a regional discussion on the issue as the entire basin is replete with suitable lands and have high import bills.
In expressing the view that other imports can be substituted including corn, sheep and goats, Issa suggests that, "all which needs to be done is for the industry players, including farmers, bakers, entrepreneurs, agricultural and financial institutions, and food experts to meet and chart a roadmap for the growing of cassava and other foods to meet local demands and enhance food security."
It is believed that the replacement of wheat with cassava could reduce the import bill in Jamaica and other Caribbean islands by some 30% and redirect foreign exchange into job-creating and sustainable projects, thus alleviating poverty and improving health standards.
In 'Food Imports – Shame of the Caribbean', by Sir Ronald Sanders, he points to studies conducted by the FAO which show that, "CARICOM countries could increase their production of cassava, other root crops, vegetables and meat, particularly sheep and goats." (Sanders, n.d.)
Such increases in production, the studies say, could take place in every CARICOM country, and significantly reduce the importation of wheat (US$251M), corn (US$145.5M) and food preparations (US$251M), which comprised the three largest imports in 2011.
It said for instance, that cassava could be mixed with wheat for making bread, cakes and rotis, "with no discernible difference to taste and with the added advantage of a reduction of gluten." It adds that, "a percentage of cassava could be added to corn that is used as feed in the poultry industry, thus reducing the import bill for corn and maintaining the quality of feed."
The studies argue that the same applies to meat importation valued at US$225M, and that, "several Caribbean countries are importing lamb from as far away as New Zealand, while the production of sheep and goat is perfectly feasible within the region to satisfy demand - and every country could be involved."
A major brewery, the Diageo-led Red Stripe is already gearing to replace imported maize with cassava, as was reported in the article 'Red Stripe To Swap American Maize For Cassava' written by Barbara Ellington (Ellington, 2014) .
An official of the company was quoted as saying, "We aim to half the amount of American maize by 2014 …," while informing farmers interested in planting cassava for Red Stripe that they will have to wait a little longer as the focus is on the pilot farm located in St Catherine where, "the company recently entered into a joint partnership dubbed Project Grow with the Ministry of Agriculture to grow cassava in large quantities." He says the cassava processing plant will be installed by the end of 2014.
Another article, 'UWI Science Team Makes Bread From Cassava Flour', says a team from the University of the West Indies (UWI), Mona, has created a loaf of bread made from cassava flour, and was tested among our students to validate the authenticity of its taste and acceptability (The Gleaner, 2014).
Dr. Ian Thompson, principal investigator in the 'Towards Food Security: The Production of Cassava Flour' project, was quoted as saying that the implementation of such a project "can reduce our imports by substituting cassava and other starchy foods through flours into our diet," as well as satisfy Jamaica's food-security needs.
References
Ellington, B., 2014. Red Stripe To Swap American Maize For Cassava. The Gleaner, 17 February.
Sanders, S. R., n.d. Food Imports – Shame of the Caribbean , s.l.: The Voice SLU .
The Gleaner, 2014. UWI Science Team Makes Bread From Cassava Flour. The Gleaner, 25 January.